Details & Highlights on Spring Outfit Ideas
In this blog post I wanted to review some of my most recent past looks and some of my favorite items/highlighted items. While reading this post and seeing the pictures you will notice some common items, and those are my current obsessions.
Graphic Tee & Step Hem Skinny Jeans
This was just a basic graphic tee & denim outfit, paired with open toe booties and a off white cross body bag. I threw in a neckerchief and tied a head wrap to spice up the look from the basic. The highlight for this look are the jeans from Francesca's. I love that they are a dark denim with a dark faded wash and hem detail. You probably have noticed I wear them a lot, but I cant stop, they fit so good and go with so much! I've linked some similar graphic tees, all under $15 and the exact jeans (Jayda Hi Rise Step Hem Skinny Jeans) below & they still have some sizes available.
Highlight: Francesca's Jayda Hi Rise Step Hem Skinny Jeans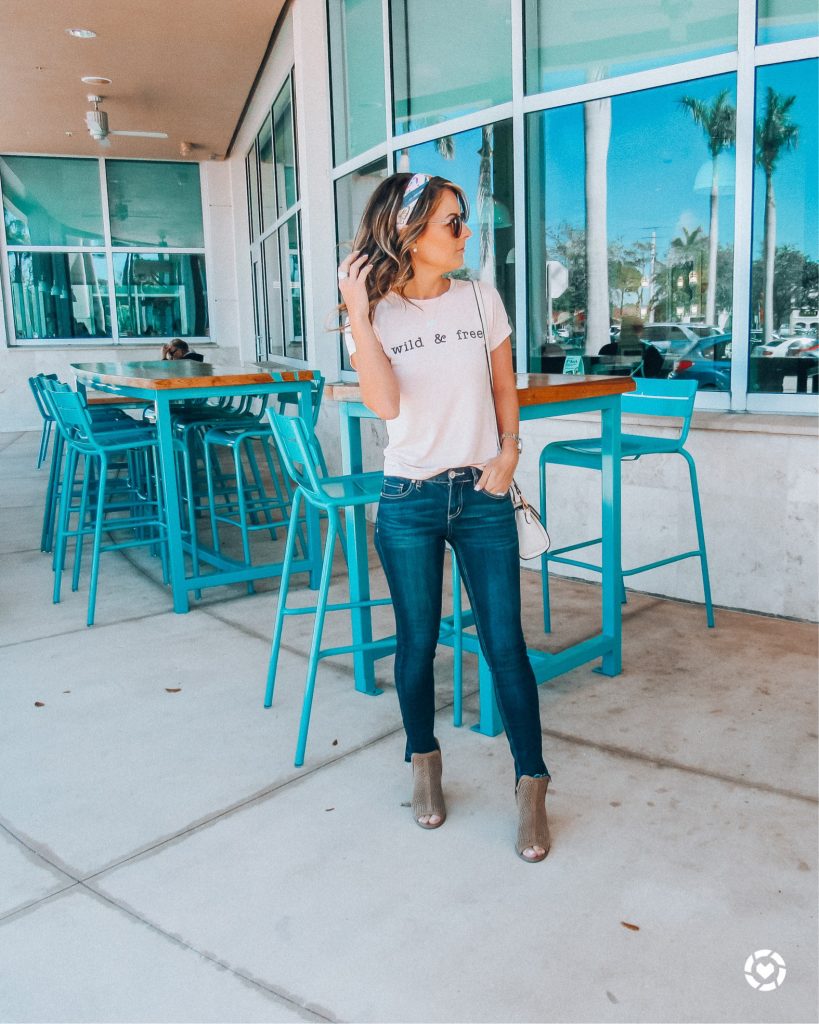 SHOP THIS LOOK
Embroidered Eyelet Top & Distressed Denims
I absolutely fell in love with this top and the color as soon as I saw it. I was at the mall with Emma and even her loud screams couldn't distract me or make me miss this top. I've worn it once so far and received so many compliments throughout the day. The top is just under $20 and also comes in white. I feel as its a great transition top to spring and summer and can be paired with denim shorts or skirts too.
Highlight: Embroidered Eyelet Top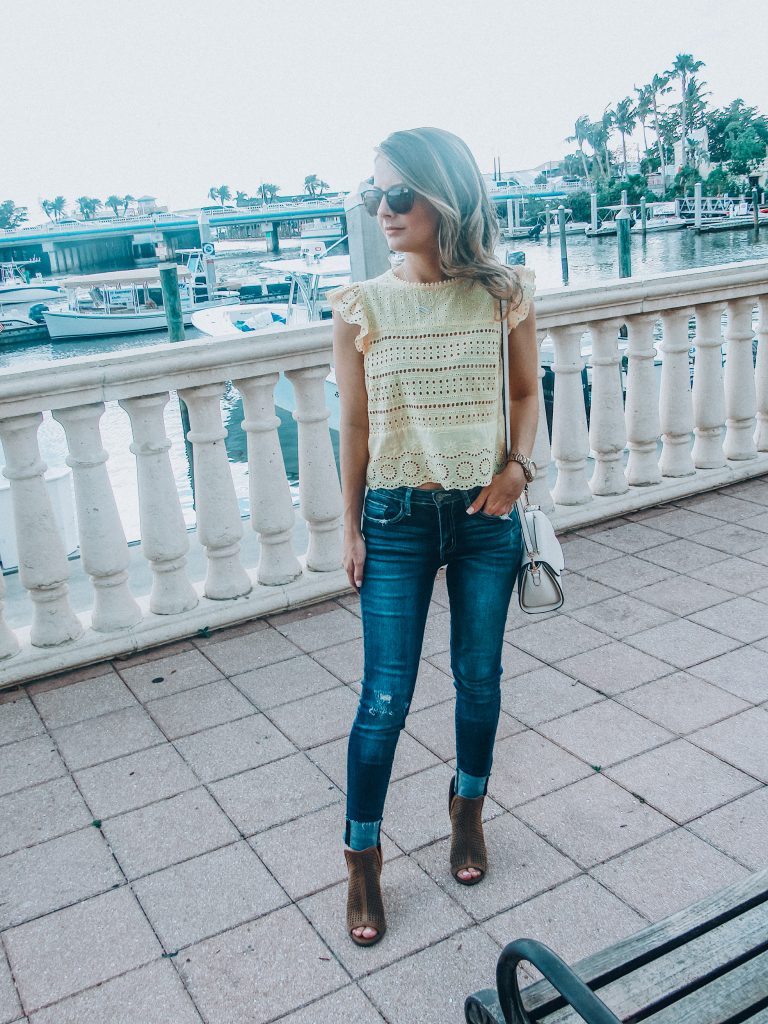 SHOP THIS LOOK
Stripped Flounce Hem Top, Denims & Wrap Sandals
Another casual look with a knit tee & distressed denims. The top features a stripped pattern and flounced hem that gives it such a girly feel. I had been looking for a neutral off white cross body bag for who knows how long. The ivory color goes with so much and is perfect for spring/summer season. I've been able to throw this cross body bag with almost all my outfits lately, when I don't need to carry a big diaper bag around! The sandals are sold out but I found a very similar looking pairs from the same brand, I've linked them below.
Highlight: Stella Crossbody Bag Vici Dolls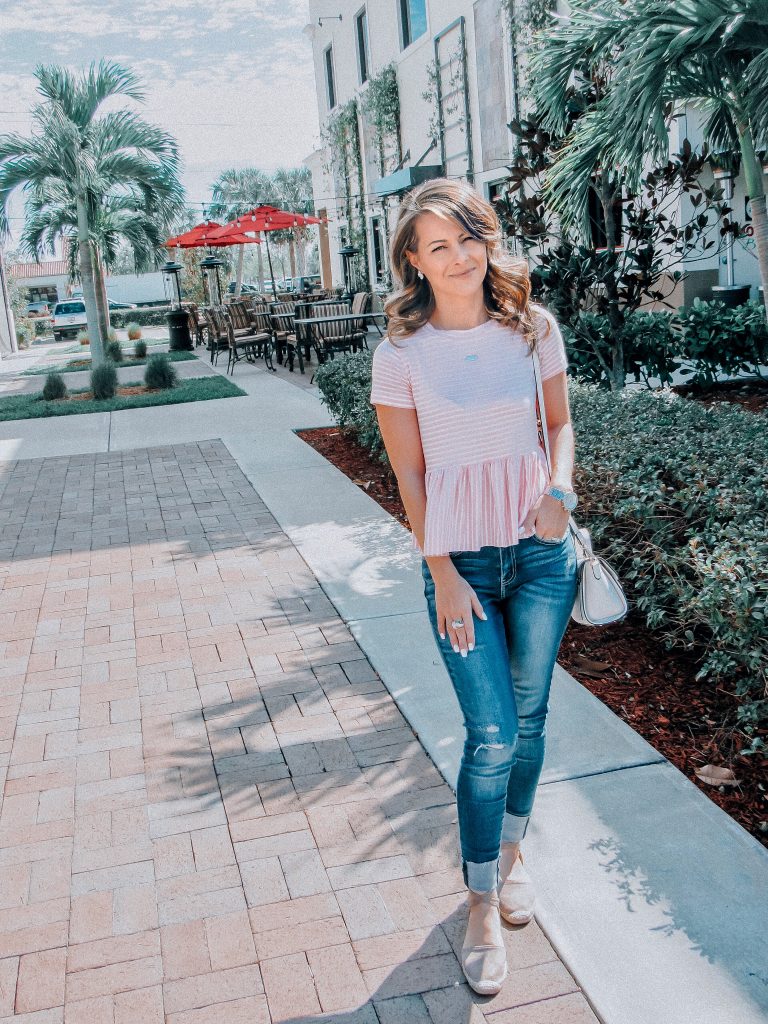 SHOP THIS LOOK
Light Criss Cross Top & White Ripped Denims
This has to be one of my favorite looks from the past week. I found this top on sale at Francesca's for like $20 and got a second top for $5, I mean there's nothing better than that. I paired the top with ripped white denims and nude open toe booties. The Grey Kate Spade tote was the perfect bag accessory and matched so well. You all know how much I love this bag, when I'm in a hurry or by myself this bag comes in hand to throw all of Emma's stuff and I don't have to carry my bag and a diaper bag. The design is very old and hard to find but I was able to find some in grey, blag, blue and fun drawings on Amazon. Another reason I love this bag is because it reminds me of a Louis Vuitton tote but only cost me a fraction of the cost!
Highlight: Kate Spade Penn Place Margareta Tote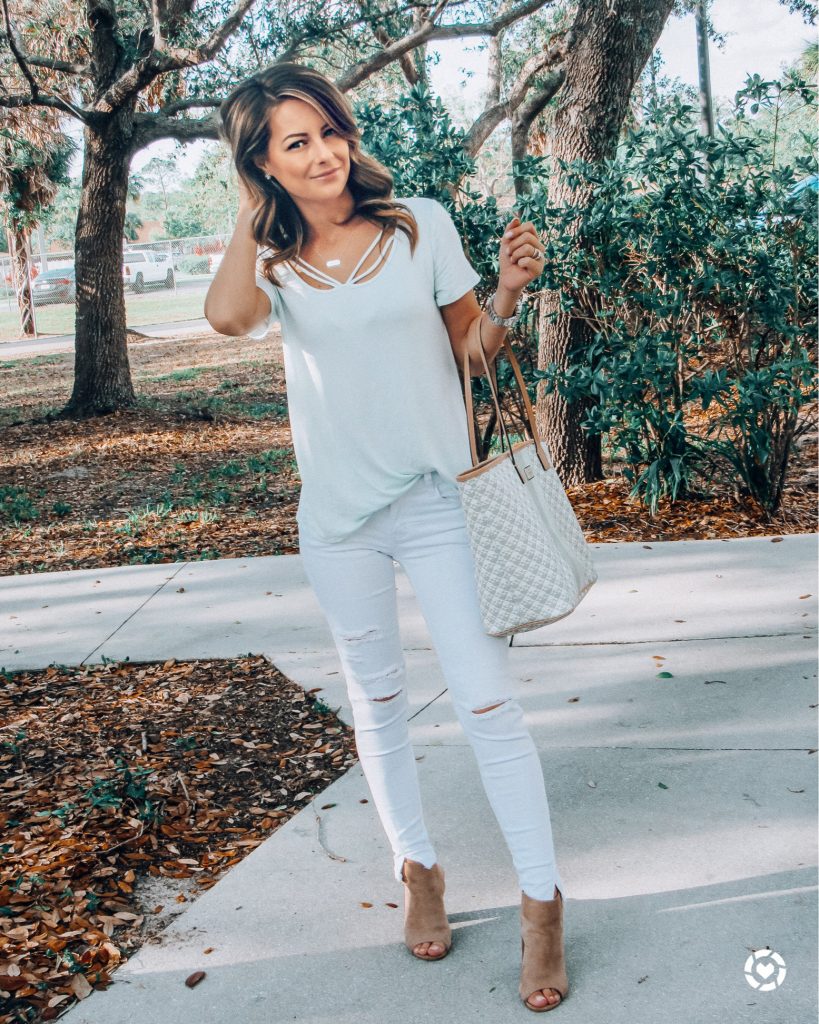 SHOP THIS LOOK
Converse & Rackerback Tank
This was a casual day outfit for the grocery store and errands with Emma. The whole outfit is from Nordstrom Rack, I found these jeans on sale for like $8 and this tank for $10. They are from last summer so I have linked some very similar rackerback tanks below and some great jeans from the same brand I'm wearing. The highlight of this outfit, again, I'm sure you've noticed it before, is the Stella & Dot bar necklace. Mark got this for me as my first mother day gift and I barely take it off. It has Emma's initials on it and means so much to me. I only have it silver but will be ordering it in gold very soon!
Highlight: Stella & Dot Necklace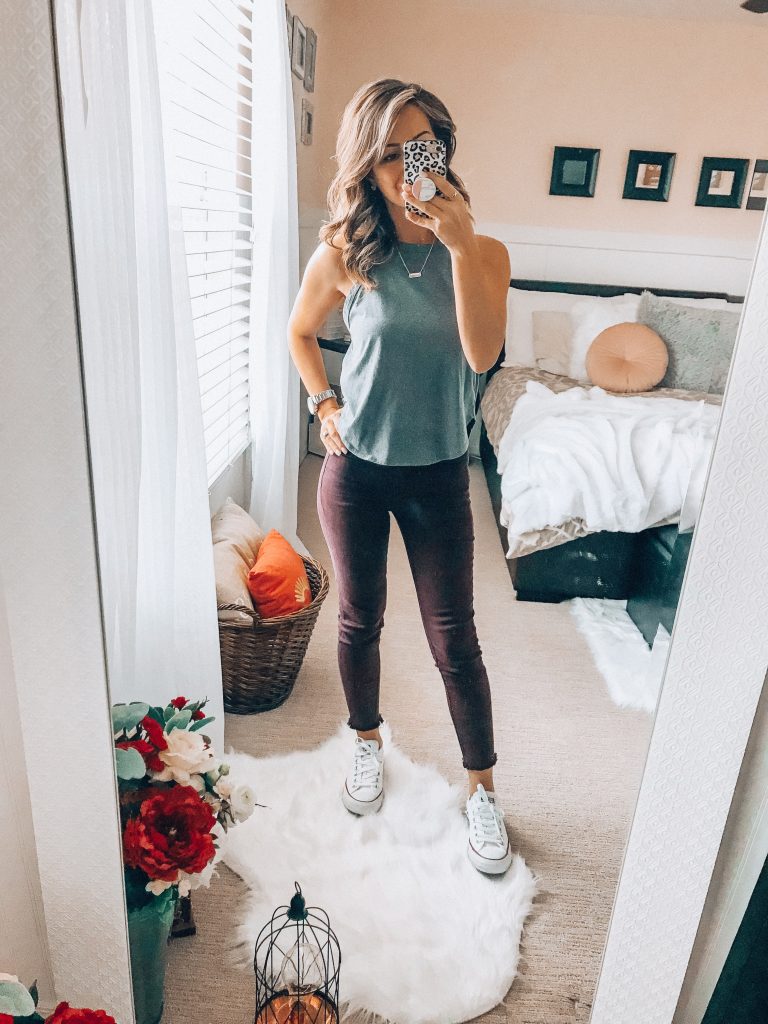 SHOP THIS LOOK
Sleeveless Top & Black Leggings
Another great top I found on sale for under $10! The top has slits at sides and is paired perfectly with tights, short denims or pool/beach cover up. The tights/leggings are from H&M, very thin and light and can be see through, that's why a long top with slits like this is perfect. Since the outfit was very casual, I dressed it up with the accessories. I wore my Kendra Scott necklace and added a choker, a black cross body bag with gold details, my light brown open toe booties and brown sunglasses from Blenders Eyewear. The ones I'm wearing are sold out but they just released a new line and my Rose Theaters ones are back in stock! I've linked all of their women's sunglasses below and don't forget to use promo code ILDA20 for 20% off  your purchase.
Highlight: Blenders Eyewear Sunglasses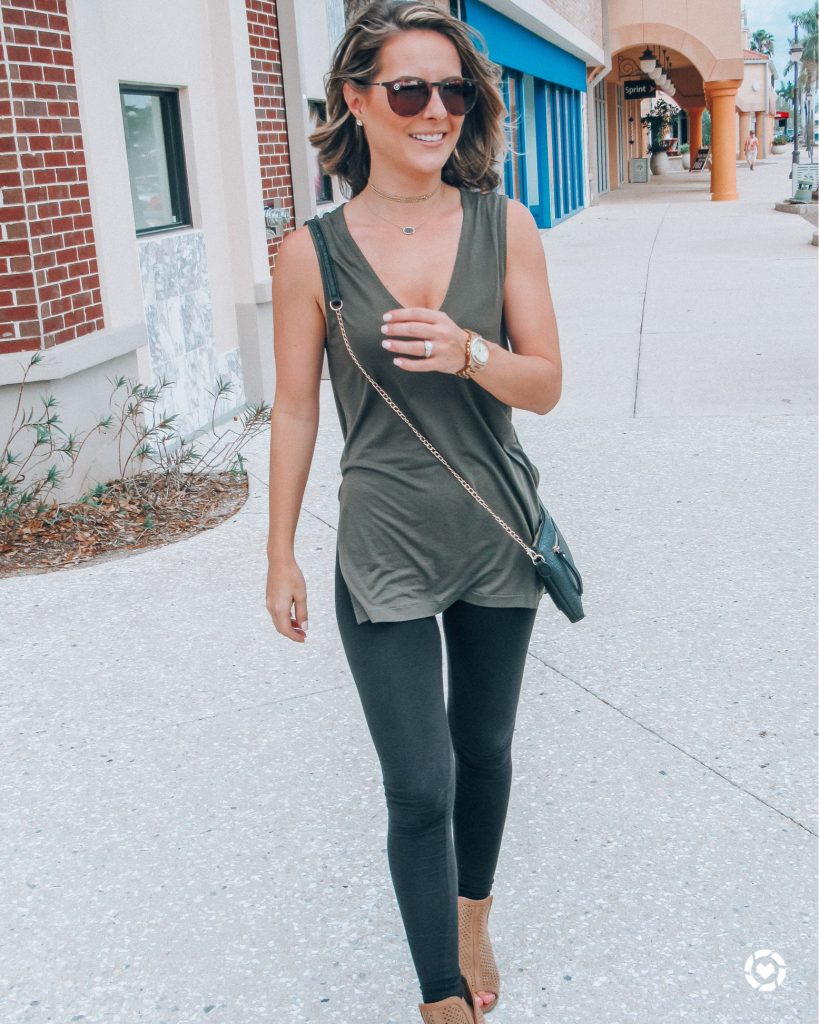 SHOP THIS LOOK
These were some of my most recent spring looks, perfect for this transition period as we head into Spring season. If you live anywhere with cooler weather, all you need to throw on is cover up with any of these looks and you are set. Let me know any questions, comments, concerns in the comments below. Have you or will be trying any of the items I've highlighted?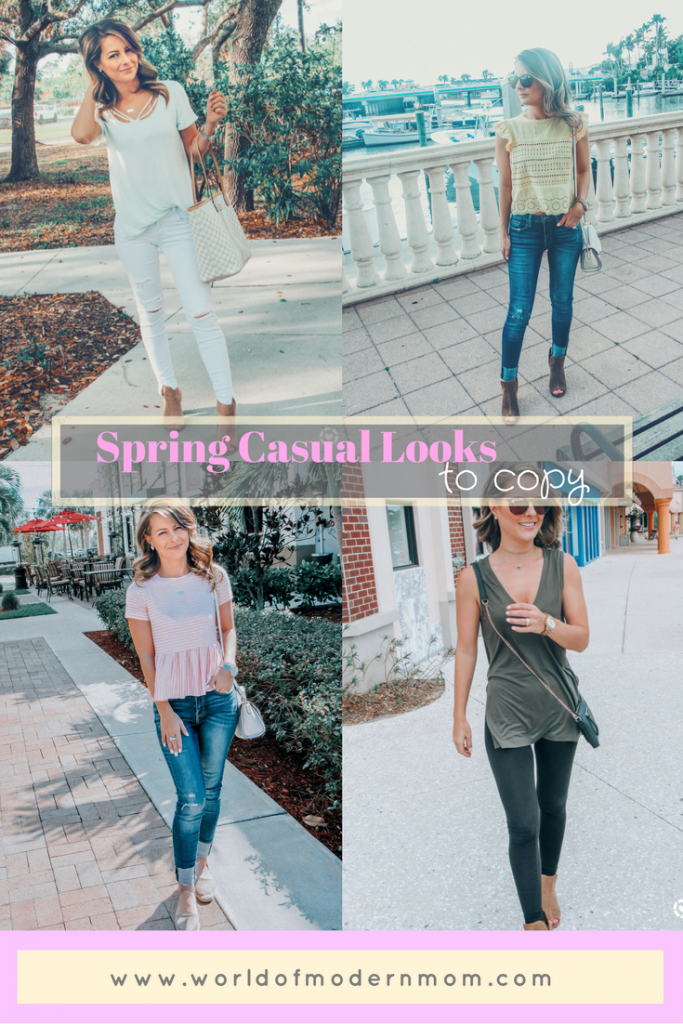 -WorldofModernMom