at Koreshean State Park with @jillianlee_x.
Summer State Park Maternity Photography Session & Prop Ideas
Since summer is around the corner and its March 1st, I thought I'd do blog post on our summer maternity photo session with Jillian. At the same time I will tell you our story on how we found out we were expecting Emma!
Rewind in time: Finding out
About 3 years ago around this time we were planning a big summer trip to Albania and Greece. We wanted this to be our last "big trip" before we started to try for our first baby. I recently had been in a car accident and herniated a disk and pinched a nerve. During this time I was seeing a chiropractor couple times a week, taking pain medication and epidural injections on my spine to help with the pain. So, yes I needed to get away. We planned our trip and enjoyed every second of it. You can read about our Greece trip here.
When we got back we started to try. At the same time I was still going to all the doctors appointments for my neck. As a standard before epidural injections they make you do a pregnancy test because of the x-rays. Well a couple months after our trip to Albania and Greece I was due for an epidural shot. Days before my appointment, I had a feeling. I was restless, jittery and a couple days late but not much at all.
Mark always tried to come to my epidural injection appointments because they are painful and am numb for a little while after. As we walked into the room, they asked me to do a pregnancy test. I went & did it and came back. A couple minutes later we heard some chatter outside our room and the doctor instead of the nurse came in. He looked at us and said…. "well Congratulations you are going to be parents!" Mark was shocked, but I had a feeling. I'm sure this was a first for this doctor to deliver such news and he was so happy to tell us but at the same time was sad because he knew he couldn't help me with my pain anymore.
So that's how we found out we were expecting our Emma. In the beginning my back pain was horrible, I couldn't get the injections or take the pain medication anymore. The only thing I could do was see my chiropractor. And she got me through it until about 4 months into my pregnancy and then my neck pain disappeared, my doctor had said this could happen. That months into pregnancy if you have previous health issue, your baby could take it away. And so Emma did, she made mommy feel better until the end.
That was a little stroll down memory lane on how we found out we were expecting.
Summer State Park Maternity Session
Now onto our maternity shoot and some small prop ideas to include in your shoot.
Our shoot took place at Koreshan State Park. Koreshan State Park is the home of the Koreshan Unity Settlement, the pioneering colony that led the development of Estero in the mid 1890's. There's parks, a river, picnic tables, historic buildings and so on! Which made it perfect for some backdrop variety.
For our props we decided to do some small items. 

Crown
I ordered a dried babys breath flower crown from etsy and I absolutely loved it for my maternity shoot. It gave it a magical, romantic feel.

Baby Shoes
We knew were having a girl so we decided a pair of pink sandals would be perfect for either a belly shot or mommy and daddy shot.

Sign
Another prop we used was this "We're having a girl" sign. This was our photographers and she brought for us to use. You can buy or make your own sign with whatever you'd like though!

Maternity Gown
There is so much maternity wear available now days! but the one I choose for my maternity shoot was this short sleeve gown in white from Etsy. You give them your measurements and if you would like a slit in the middle or not. I choose no slit.
Maternity Photos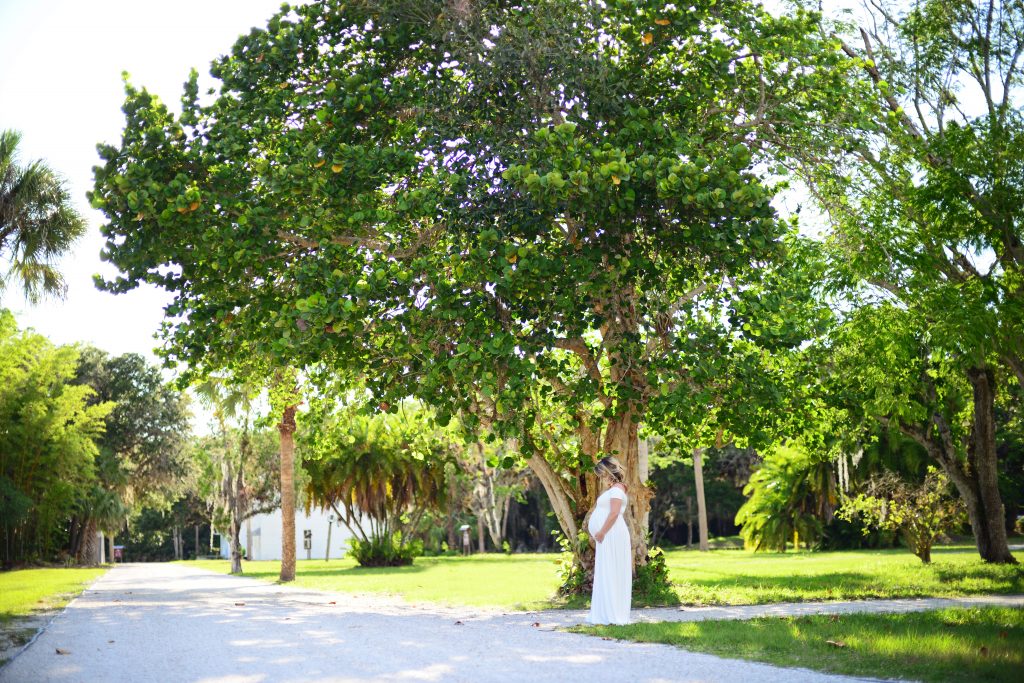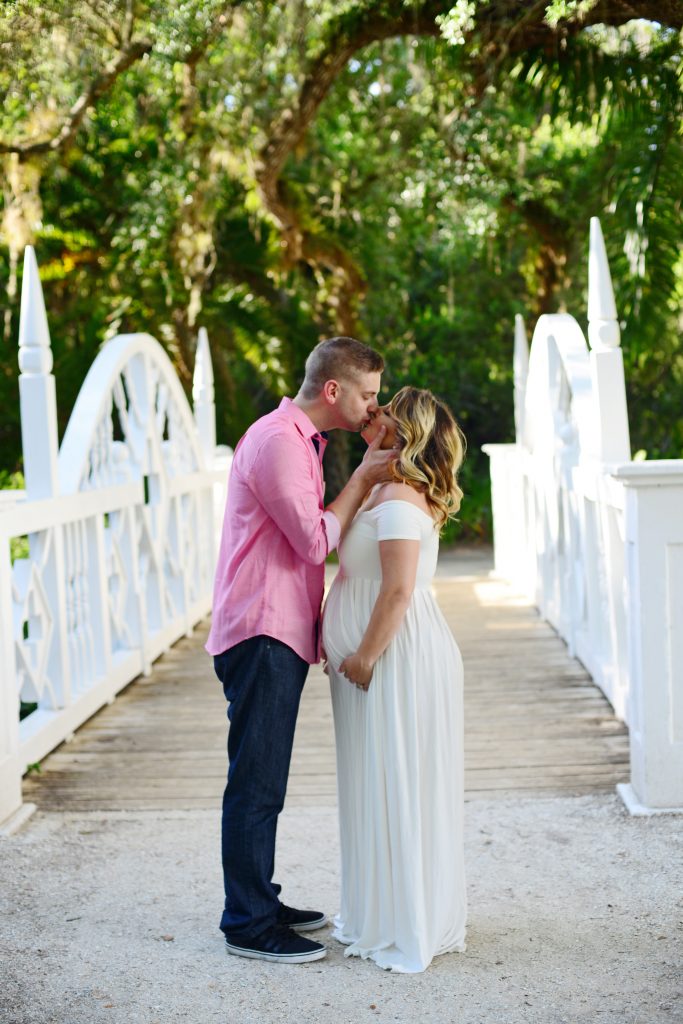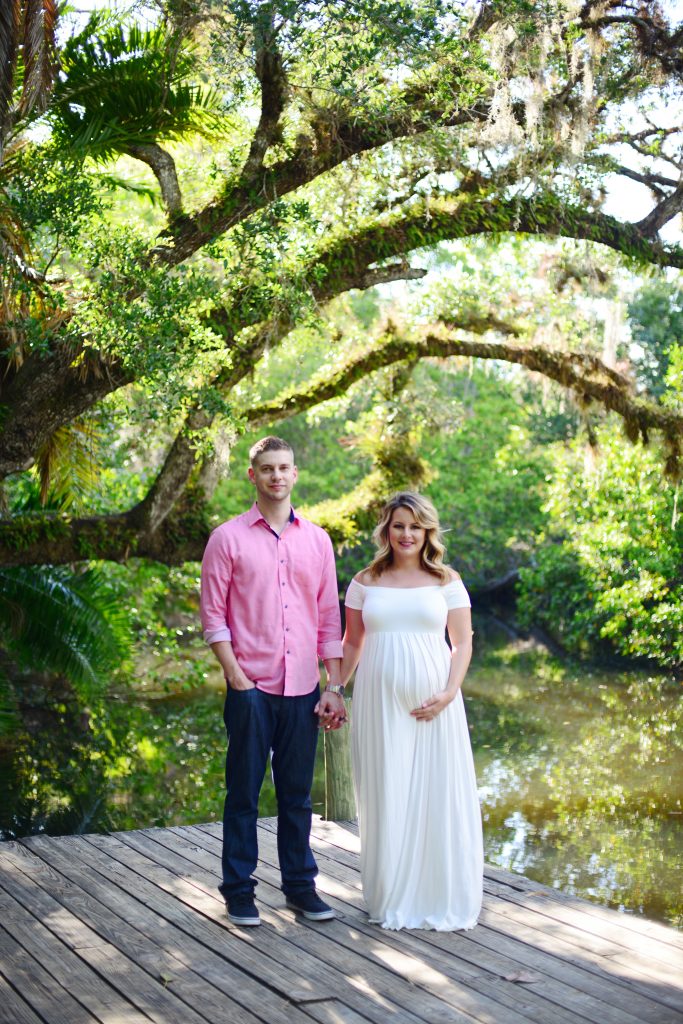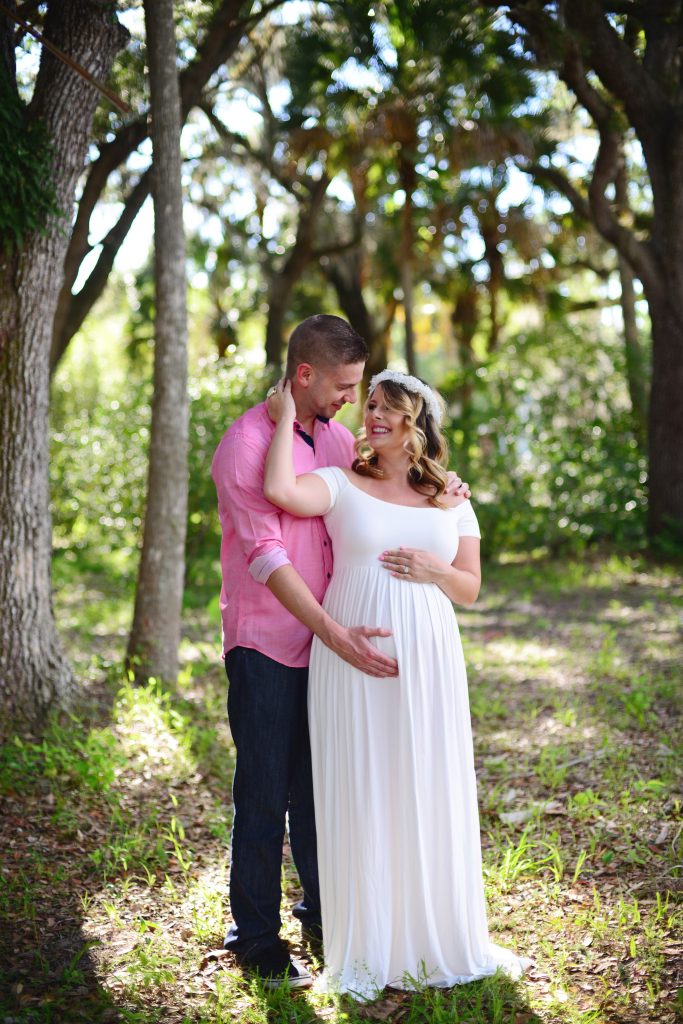 & So those were our maternity photos and our story on how we found out we were expecting. Hope our session inspired some ideas for your own maternity shoot.
I also have linked my crown and gown but some other crowns and gowns below.
-WorldofModernMom