Mom & Emma's Favorite Five
As a person, I am a creature of habit. Once I like something and it works for me, you've got a customer for life! If the product does what I want it to do, I don't mind spending a little bit extra cash. Below are some of my favorite products and some of "Emma's".
On this blog post, I will do a round up of items that Emma and I cant live without!
My Favorite Five
1. Amika Dry Shampoo
Lets start with one of my favorites, Amika Dry Shampoo! I have been using this for a couple years now and I can't tell you how much I love it. This is the ONLY product I use after curling my hair. I don't ever use any kind of hairspray. After curling my hair, I will spray Amika all over it and work it through with my fingers. I use it as my dry shampoo for those oily hair days and as my hairspray after curling/straightening. It leaves my hair feeling clean, fresh and bouncy.  If I'm in a rush and don't have time to restyle my hair, I just spray this on my roots, shake my head and work it through with my fingers and out the door!
2. PopSockets
This was like a gift from heaven! I had noticed that my pinky finger was bothering me more and more. As the iPhone get bigger and heavier, my finger was leaning more and more. I have small hands and even smaller fingers! I read about these and was so surprised at how reasonable priced they are. They are only $10 and for an additional $10 the first time you can purchase the car phone PopSockets holder, totally obsessed with this too. I absolutely love all the different designs they have or you can create your own!
3. Sisley Lipstick
Another one of my go to beauty products! When I say, I'm addicted, I'm not lying! I ran out of mine like 2 weeks ago and I swear, I feel a little itch every time I put on something else at the moment! I can not wait till this item arrives! They have tons of colors, the one I use is Phyto-lip Twist 1. I love the soft chap-stick feel and the lipstick/gloss look it leaves on your lips.

I'm sure you have seen these sunglasses on me before. You can tell, I love them right?? I have a few in different colors but the pink shades are my favorite. I've recently noticed that pink is a go to color for me, so these pink shade sunglasses end up matching with most of my looks. They are also super reasonable and their site always offers some type of discount on your first order. Use code ILDA20 for a discount at check out! (linked on the title)
5. Stylish Backpack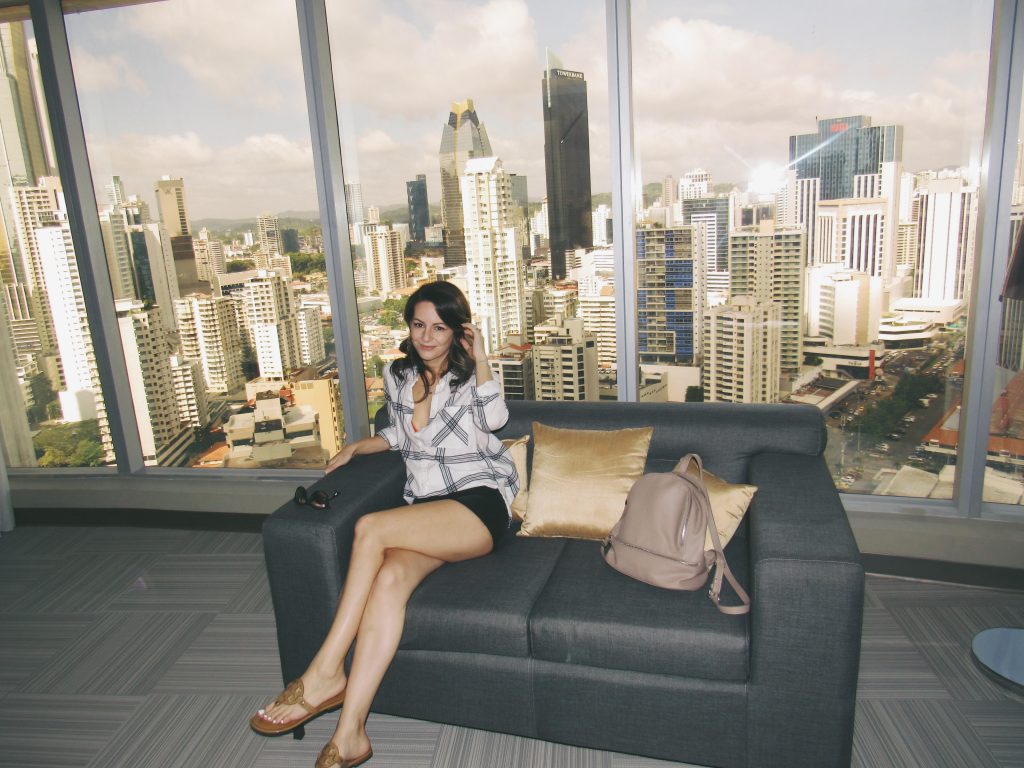 Since having Emma, I have to have my hands free at all time and mostly when I'm alone, running errands with her. This is why when I'm running errands, this is my go to purse. I can load it up with my stuff, a diaper, wipes and snacks for Emma and out the door. Also, running from store to store and loading Emma up in the car, its perfect and never in your way. Sometimes, I forgot I even have it on. Perfect for traveling too!
Emma's Favorites Five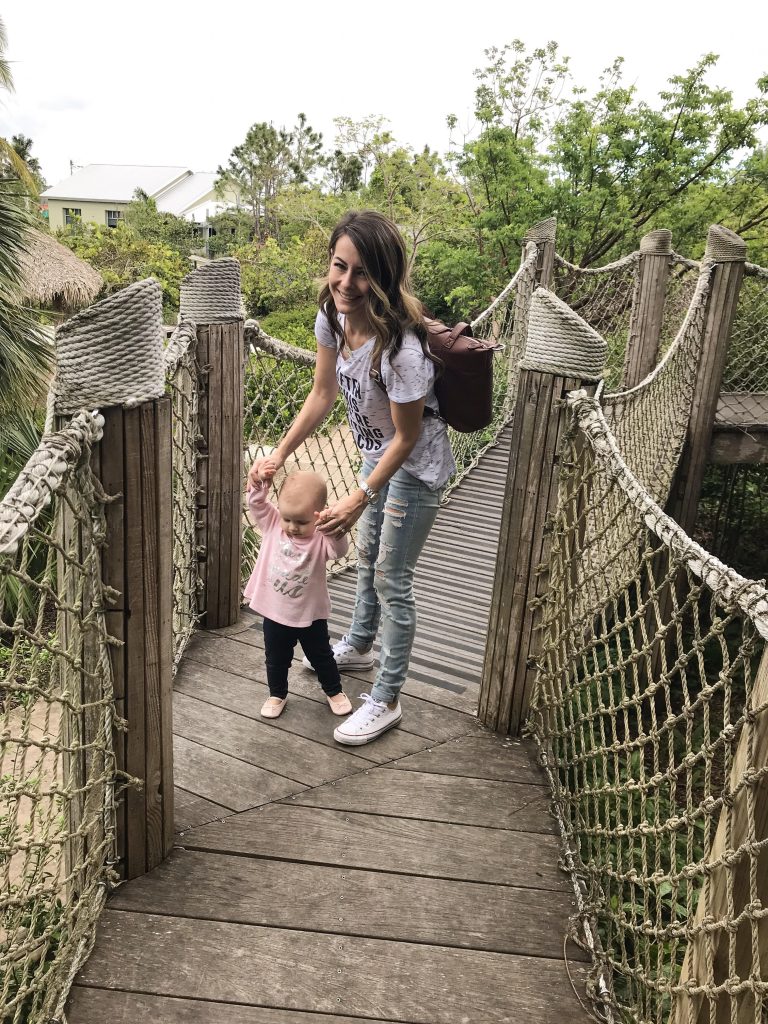 This diaper bag is amazing! Not only its a backpack style that both men & women can wear comfortably but also can be converted to a messenger carry bag. It has removable, washable, organizer and changing pad bag in the inside. So perfect for those on the run, running into the bathroom kinda day! You can also fit so much and always stay organized with their 12 pockets. Lots of outside pockets that make it easy to throw in phones or small toys. (linked on the title)
2. Lollaland Lollacup
Both Emma and I are obsessed with this cup. Since she could drink water, I tried to get Emma to drink out of a straw. I had read about sippycups causing lisps in children, so if I could, I was going to avoid them. And since she could, she has been drinking out of a straw, at restaurants at first and then with her Lollacup. It has a flexible straw that has a weighted end that anchors in the liquid to help children drink effectively, even when the cup is tilted.
3. Circo Plates
I found these to be the cheapest and easiest. It allows you to separate their foods in little sections and they are dishwasher safe. They are sold at Target for less than a $1 and I bought a dozen at once. This way I don't have to keep running the dishwasher as often. I pretty much serve all of Emma's meals on these plates.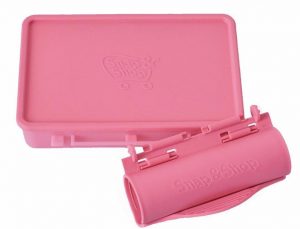 As Emma is getting older, it is getting easier to drag her around for errands but not so easy to keep her entertained and feed on the go. Well, with the snap & shop tray, you can shop while your baby eats & entertains her self right in the shopping cart. Because come on we all know, food is a form of entertainment for kids at some point. I also use this tray as my snack box for Emma. Its always full of snacks where ever we go. I don't just use it while shopping but anywhere we go! (linked on the title)
5. Memory Game Board
We accidentally stumbled upon this and I absolutely love it and so does Emma. Its a memory board for kids to find matching items. You can choose from many fun themes, slide a card into the game board and start looking for matches.  Our memory game included one game board, seven double-sided game cards and a two-player scoreboard attached at the bottom. There are no loose pieces and everything conveniently stores in the board. We find it great for travel or everyday entertainment!
Those are Mommy & Emma's favorite fives at the moment! If you haven't checked them out, do so and you will see why they're our favorites!
Do you guys have any favorite items that you can't live without? Comment in the section below and let me know what and why! I would love to try out some new items!
Want to check out what beauty products I use? Click here.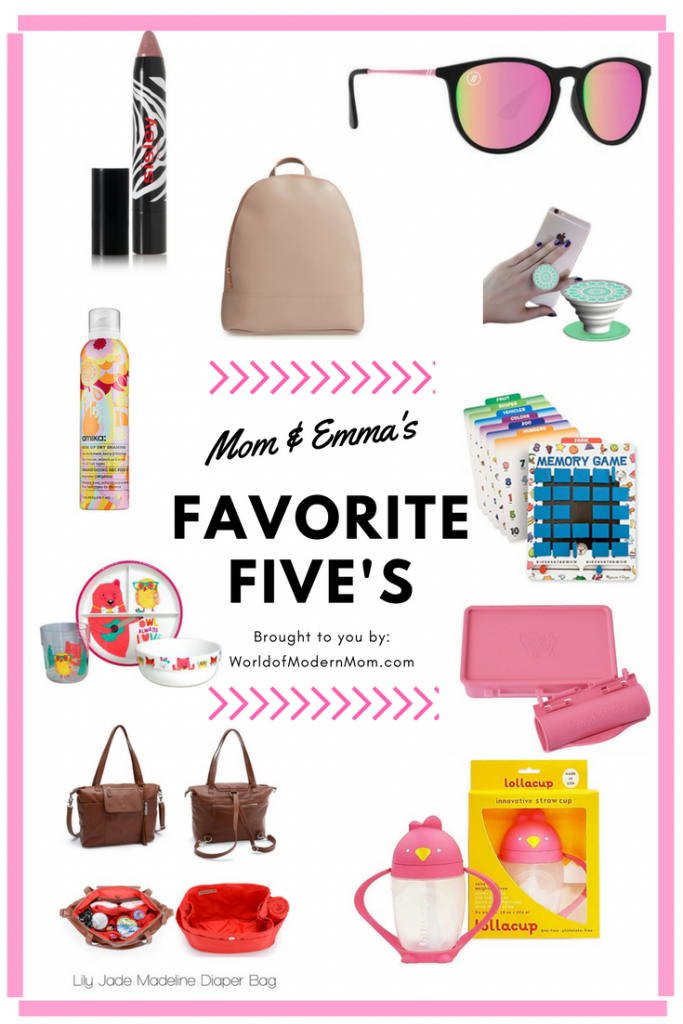 -WorldofModernMom