Remember that saying joy is sleeping in…well I don't even know the last time I slept in past 7:00 am. I look back to when I was pregnant and people telling me to get all the sleep I can now. Because once the baby comes its a different story, and boy were they right. The first couple months are the hardest but then your body gets used to the new amount of sleep, you almost have an internal alarm clock. Now days, no matter how tired or sleepy I am, I cant sleep past 7:30 am. Which I consider a good and bad thing.
We usually don't do much in the mornings, between breakfast, me working from home, house chores, etc. its too much to fit in before Emma's nap. We try to keep our mornings quiet and relaxing. After Emma's, nap we will run any errands or do any family activities we have planned for the day.

Early Morning
Me as a person, it takes me minute to wake up. I am defiantly not the chipper/awake person in the morning & hubby knows that. So, once Emma is up, which is right around 7:30 too, hubby gets up and takes care of Emma. They have a morning routine and this is a big help for me before he heads out for work for the day. I slowly get up, get myself together, while he changes Emma, feeds her breakfast and makes me coffee. (yes, I am VERY lucky!)
Once, I've had a sip of my coffee, I can conquer the world, not really but I think I can! I am not a breakfast person, so coffee is my breakfast. When Emma is done with breakfast, we hang out as a family in the living room, playing, watching the news, while drinking our coffee.
Mid Morning
I eventually get the energy boost to get up and start house chores. Depending on the day, I try to conquer at least one big chore a day. Like some days, I might tackle all the laundry, others I might sweep/mop all the floors, or clean each room individually. This way, I don't overwhelm myself, between house chores, cooking meals, working from home and spending time with Emma, which is MOST important! During this time, Emmas playing and Mark is getting ready for work.
I am blessed to be able to stay home with Emma and also work part time from home as a Licensed Real Estate Assistant. Depending on the time of year, I can be really slow or really busy. Right now its season for us, so depending on the day I can work up to 5 hours (which can be a lot) but its amazing to also be home with Emma at the same time. As Mark heads out for work, I sit in my office and work for a couple hours. Depending on the day and workload, if I can I try and work on my blog at this time too.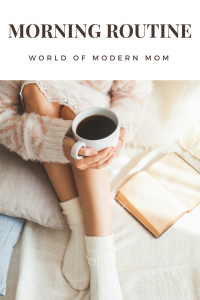 Early Lunch
Around 11:00 am, I start to get lunch ready for us. By this point, I have started a house chore, worked a couple hours and spent time with Emma all while still in our PJ's. We usually have lunch together and then relax while watching an episode of Mickey Mouse Clubhouse. Right around noon is when Emma naps and this means quiet/relax time/get ready for the day for me. This is when I will do my make up, finally brush my hair haha and get ready for the rest of the day.
I absolutely love my days with Emma! When I was pregnant, one of my biggest worries was taking Emma to day care and not spending enough time with her. I worried that I would come home from work too tired/stressed to enjoy my baby. I wanted to be hands on and didn't want to miss a second. Somehow, working through our financies and cutting corners, we worked it out. This has allowed me to work from home part time and never miss a moment with my Emma.
& so thats our morning routine! We try to keep it simple but still get a lot done. As Emma gets older and her schedule changes so will mine, and I will have to start from scratch and figure it out once again!
Outfit Feature – Must have Knee High Boots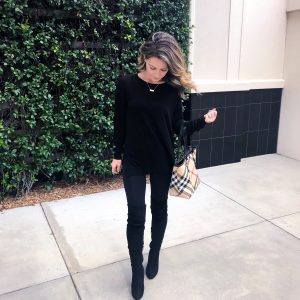 Below I am doing a feature outfit post from this past weekend when we went & saw Santa! I recently bought these knee high boots at DSW and am obsessed!! These have been the hype this seasons and I've looking for the right pair. I've been wanting a pair but was on a tight budget and wanted to make sure they were comfy, which meant I had to try them on before buying them. As soon as I saw them at the store, I knew they were coming home with me. They have a thick heel and do not tie at your thigh but also did not slide my hot dog legs! I've already wore them a couple of times and you will keep seeing them. I love that you can wear them with so many outfits, like tights, blue jeans, mini skirts, dresses, shorts, etc… I mean everything!  They are also under $80 !!! They are featured below.
-WorldofModernMom