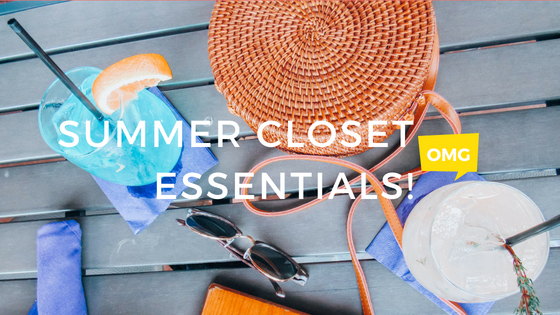 While everyone is getting ready for back to school and August has officially started, I thought I would do a Summer Closet Essentials picks blog post from my past few outfits during the summer months. These are items I absolutely love, have wore them over and over again and have gotten questions about the most.
Our summer started a little earlier than usual, we had my sisters wedding in June so by the 2nd of June we were traveling to Europe. We visited family in Albania, traveled to Italy for a couple days and came back towards the end of the month. The items I mention below are items I would recommend for the rest of summer and for the early fall transition period.
Treasure & Bond Wedge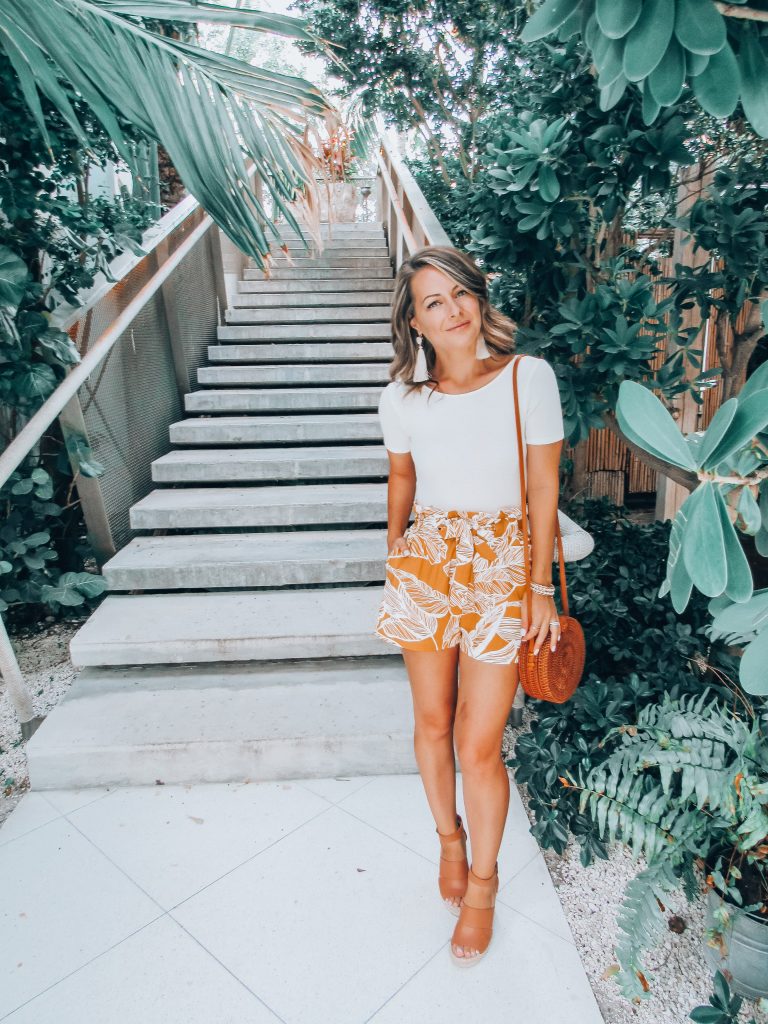 You've seen me wear and re-wear these wedges time and time again. They are so comfortable, I brought them to Albania and Italy and consistently wore them. Definitely not a pair you bring while traveling and would ever regret. I can run after Emma and do mom things while wearing these wedges. I did however go a half size up because my toes we hanging off in my size.
Free People Adelle Bralette
Brown Blenders Eyewear Sunglasses –  Promo Code ilda20
I cant praise this bralette enough! Its perfect for those low cut shirts and dresses that you always wanted to wear or to dress up a simple tank top or t-shirt. Its perfect for almost any summer top and can be worn under any fall sweater to for a little touch of style! Its also available in sooooo many colors. Also linked my brown sunglasses from Blenders Eyewear, they are only $45 and a staple in my closet all year round!
Round Straw Crossbody Bag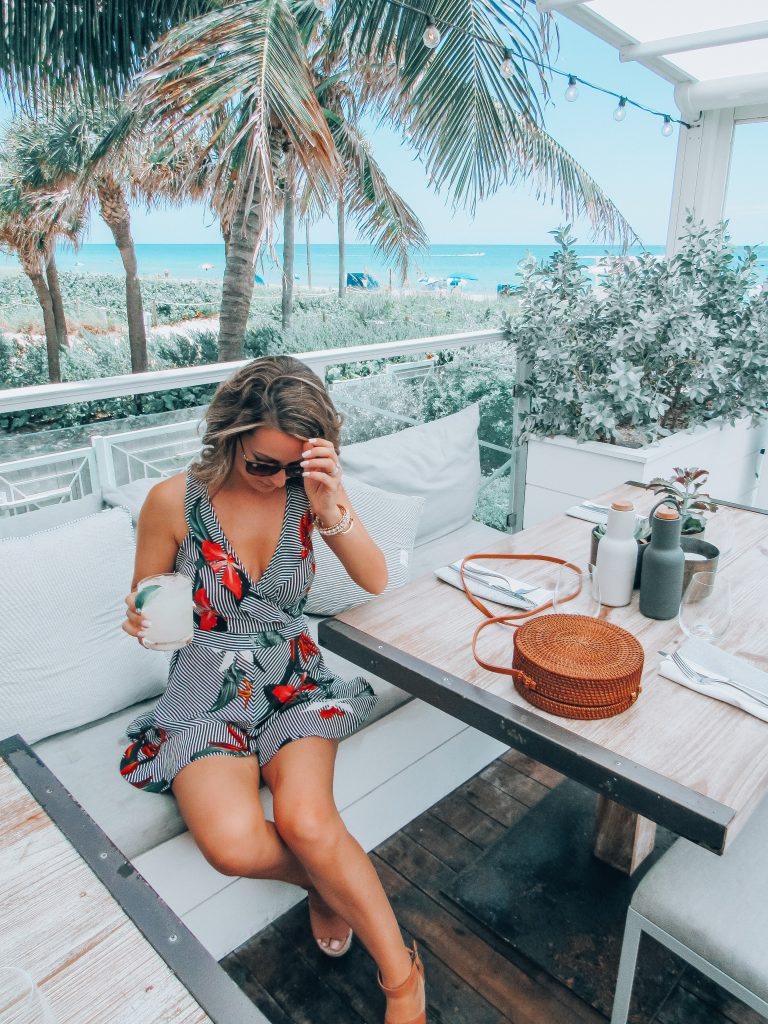 You know besides Moscow Mules, my other summer essential is this straw crossbody bag! Haven't you all seen the trend in the straw bag style this summer? Well this bag is a must have, first of all its the lowest priced one and from a trusted brand, Urban Outfitters. Online you can find ones as low as $20 and as high as $500 so I am very happy with my choice. Also, when I was getting ready to purchase mine I read a lot of reviews on other brands about a odor from the bag, I'm happy to report mine didn't have any sort of odor!
Paperbag Tie Shorts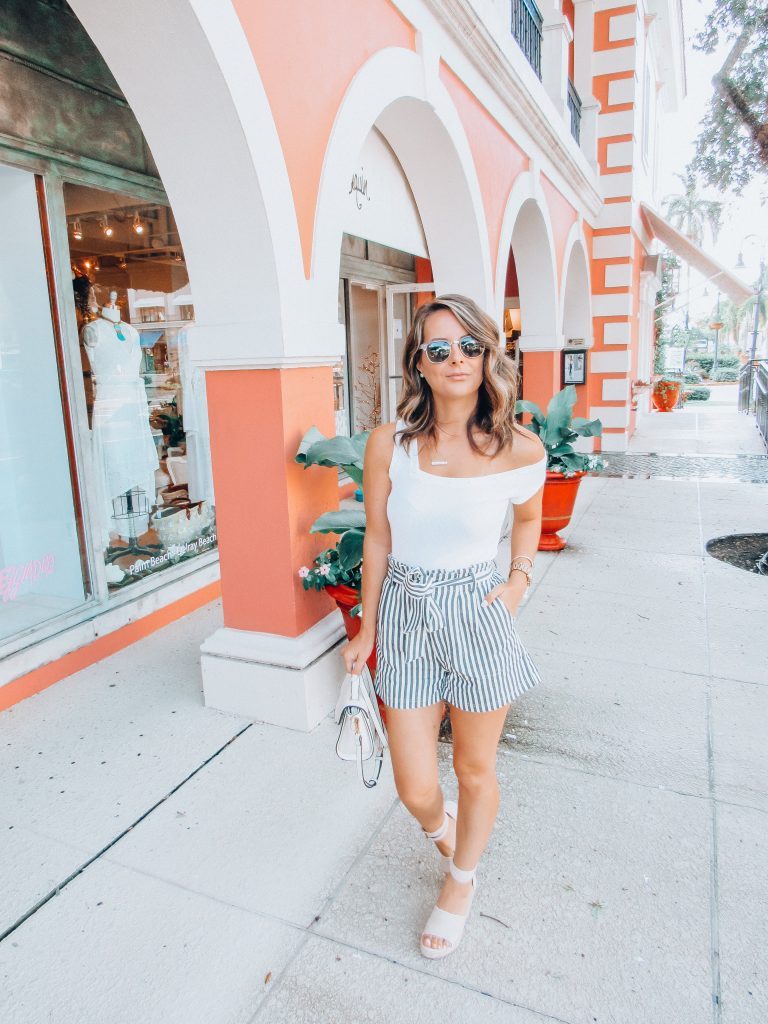 First of all, I'm sure you've noticed my obsession with paperbag tie shorts! I've literally been on a shopping spree every couple days for them! They are so perfect for summer and mom life! Love that I can wear shorts, still feel dressed up, hide my overindulging stomach flab and still lean up, down, left and right when taking care of Emma without showing my butt to the world!
Front Tie Tank Top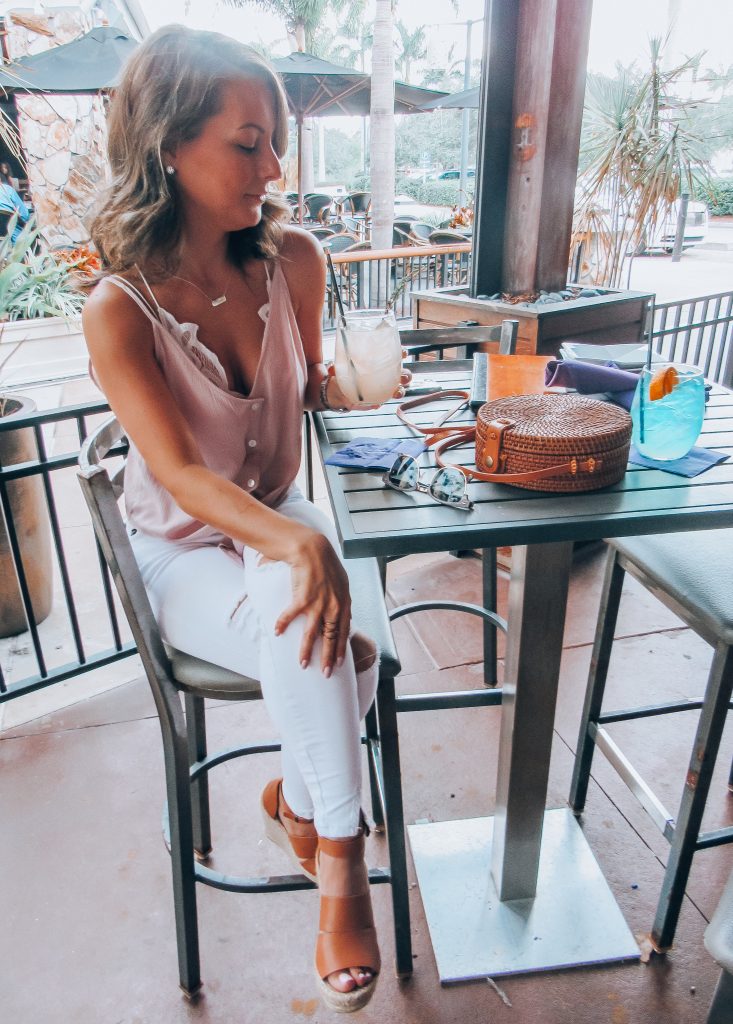 Another summer essential, light weight tank tops! Not just casual ones but dressier ones too! I love all the ones linked in the Shop the Look above, the one featured in the photo is from SheIn and paired with my Free People Bralette!
Mid Waist Denim Shorts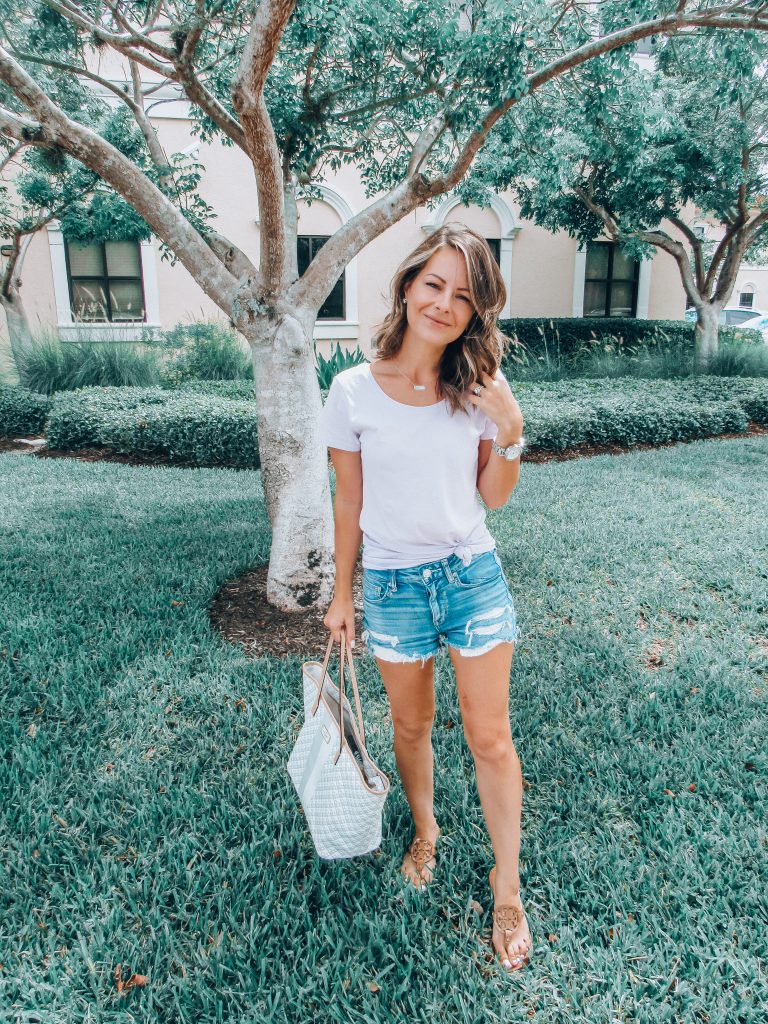 Bought these American Eagle denim shorts a couple months ago and they've been on point for errands and just casual summer days. I bought a similar pair in darker blue too. Love the coverage they provide in length in the front and back and that they go up mid waist. I'm wearing a size 2 and the others in a size 0, the lighter pair ran small.
Beauty Products
Some new products I've tried this summer and believe are a must have are, the Sisley Phyto-lip twist of course, perfect nude tone with some sparkle great for any occasion or outing.
Second product is the Cool Mist Becca Set & Refresh Powder, I got this as a trial a couple months ago and now I'm hooked. I use it all the time through out the day to refresh my make up instead of literally refreshing my make up by only brushing it on. It came in really handy during our hot summer days in Albania and Italy when I only had a few minutes to gather myself!
The last product is the Marcelle City Tinted Moisturizer, used it every morning before heading out to the beach or on my lighter make up days.  Its SPF 25, available in different tones to match your skin and has a very lightweight feel. Its only available through Birchbox, so to check it out click here!
And so those are my summer closet essential picks! As you can see most of them can still be worn/used in the next couple months, hopefully with summer ending some of the items even go on sale!
-WorldofModernMom