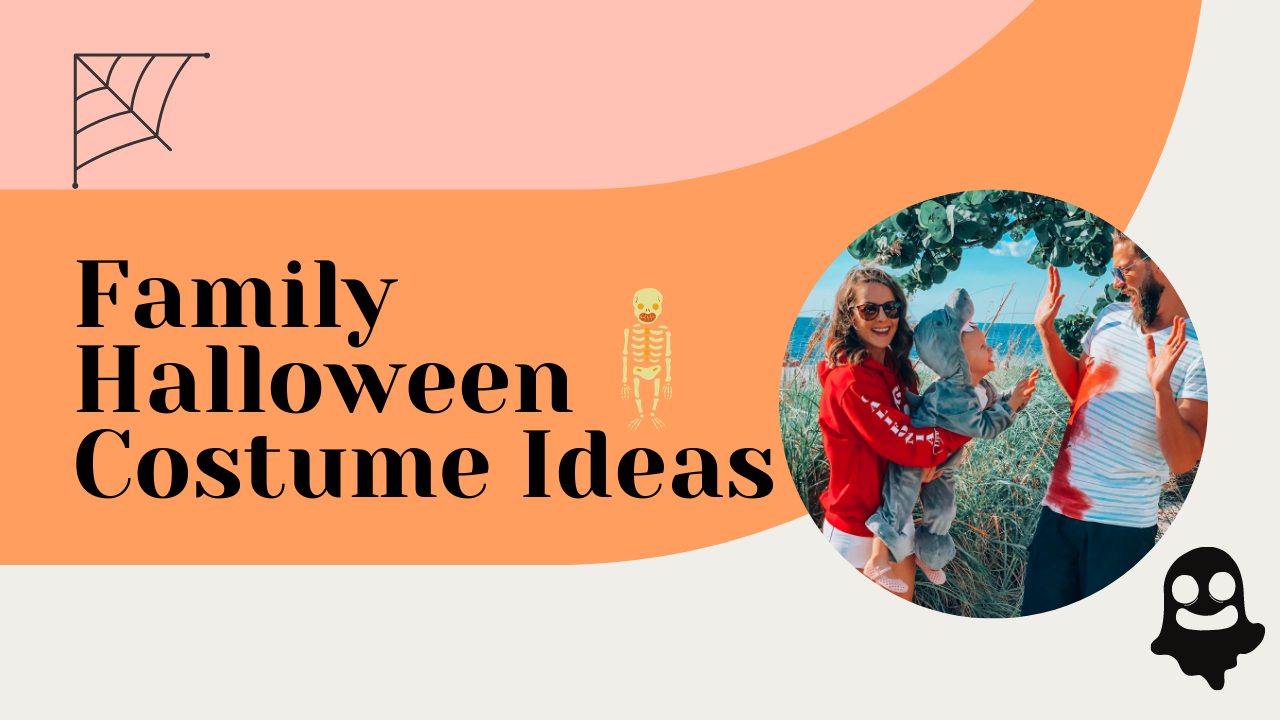 Halloween is fun but I never thought dressing up was my thing. Both me and husband used to never dress up for Halloween prior to having our daughter. We used to be the losers at the bar on one of the busiest bar nights of the year in our regular clothes and didn't care at all!! But since having our daughter Emma 4 years ago, we didn't want her to miss out and not have memories of dressing up with her parents for Halloween. So 4 years ago we decided to dress up for the 1st time ever. The funny thing was hubby and I had been together for 9 years and this was our first time thinking about dressing up in a Halloween costume! And boy am I happy, well both of us are, that we did!
Bee Family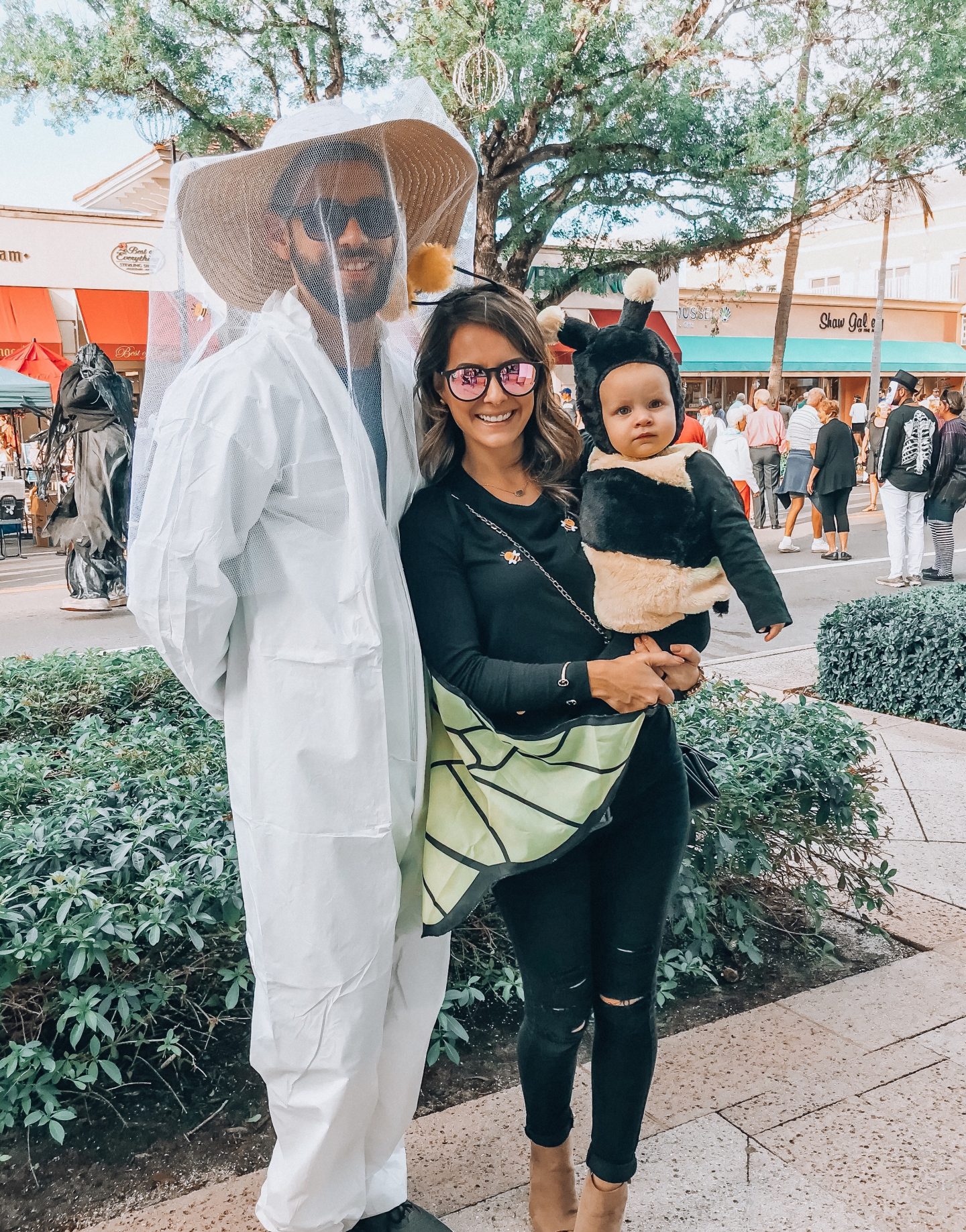 Just to see our little munchkin in her 1st costume was something that excited us even more! That year we wanted to dress up but with DIY easy costumes for us and have Emma in a real costume. We decided to do a bee theme costumes! Emma was our little bee, we bought her costume and I linked similar ones below, I was the Queen Bee and only bought wings and a headband and hubby was the Bee Keeper. For his costume we got a paint suit, big hat and a net. This was our first DIY costume so its not the best but it still came out great. If you have a 4th person you can add a HIVE! 

Shark Attack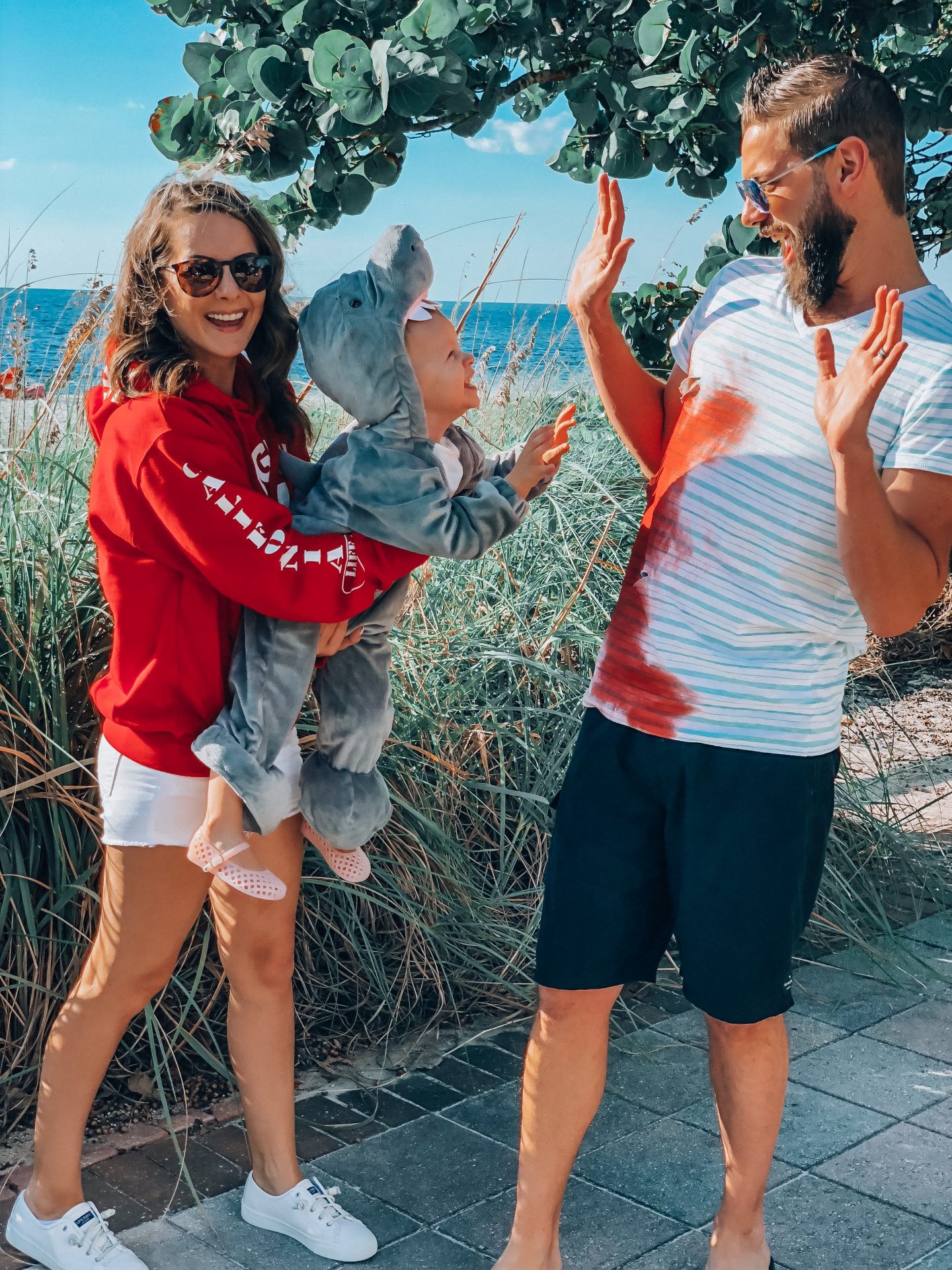 The next year again trying to do minimal costume we thought of the idea of a Shark Attack costume! Emma being the shark, hubby would be the victim and I would be the lifeguard. This is definitely my most favorite from them all! And sooo easy to put together. All you need is a lifeguard shirt, a shirt with some red paint and a shark costume for your little one!

Safari Family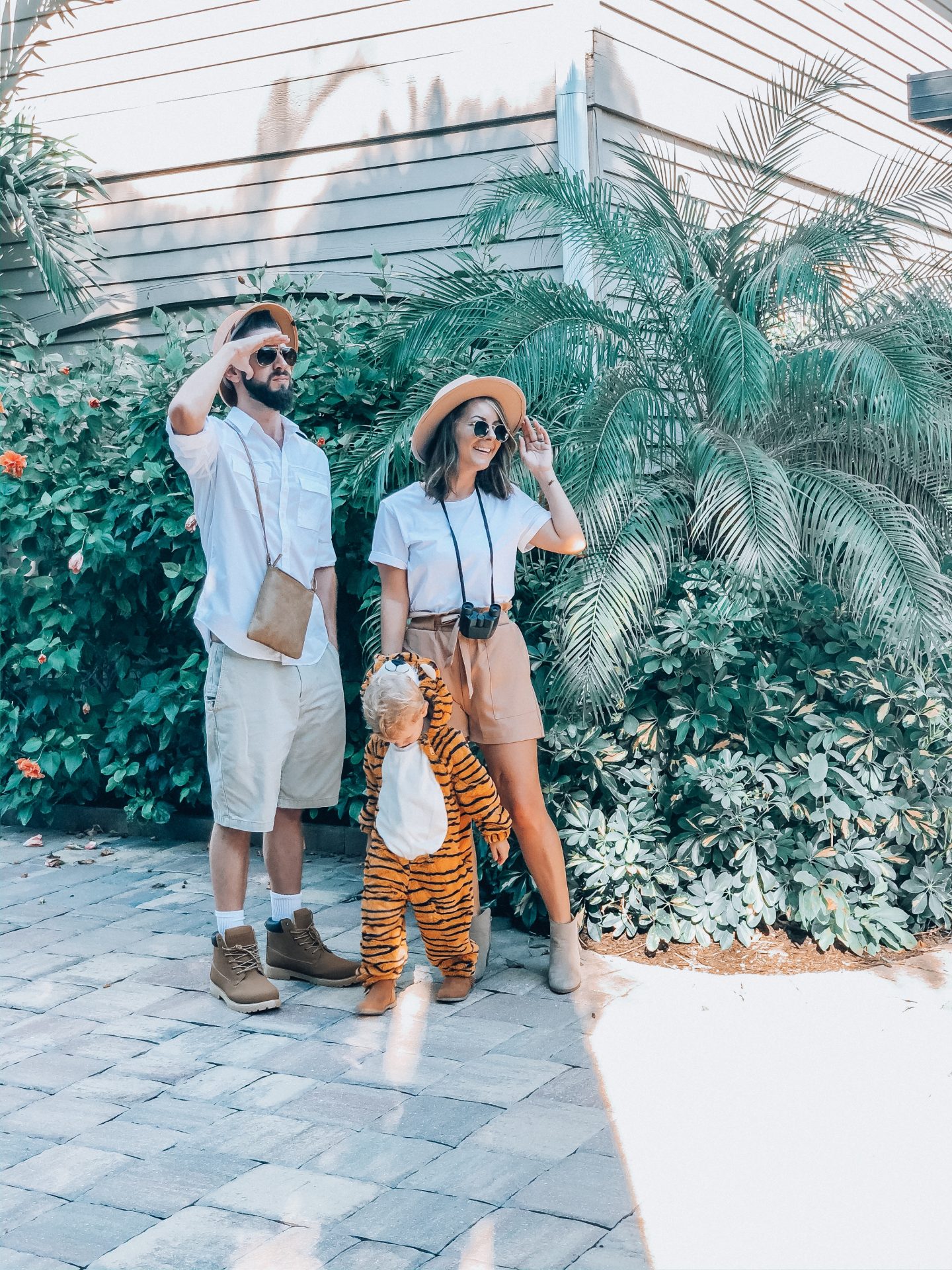 This was fun to put together too! And again super easy. Hubby and I used clothes we already owned and added some accessories to tie in the theme. Emma was the only one with an actual costume! This is great if you have a big family because you can more characters like, the driver, more animals etc. 

Pasta & Sauce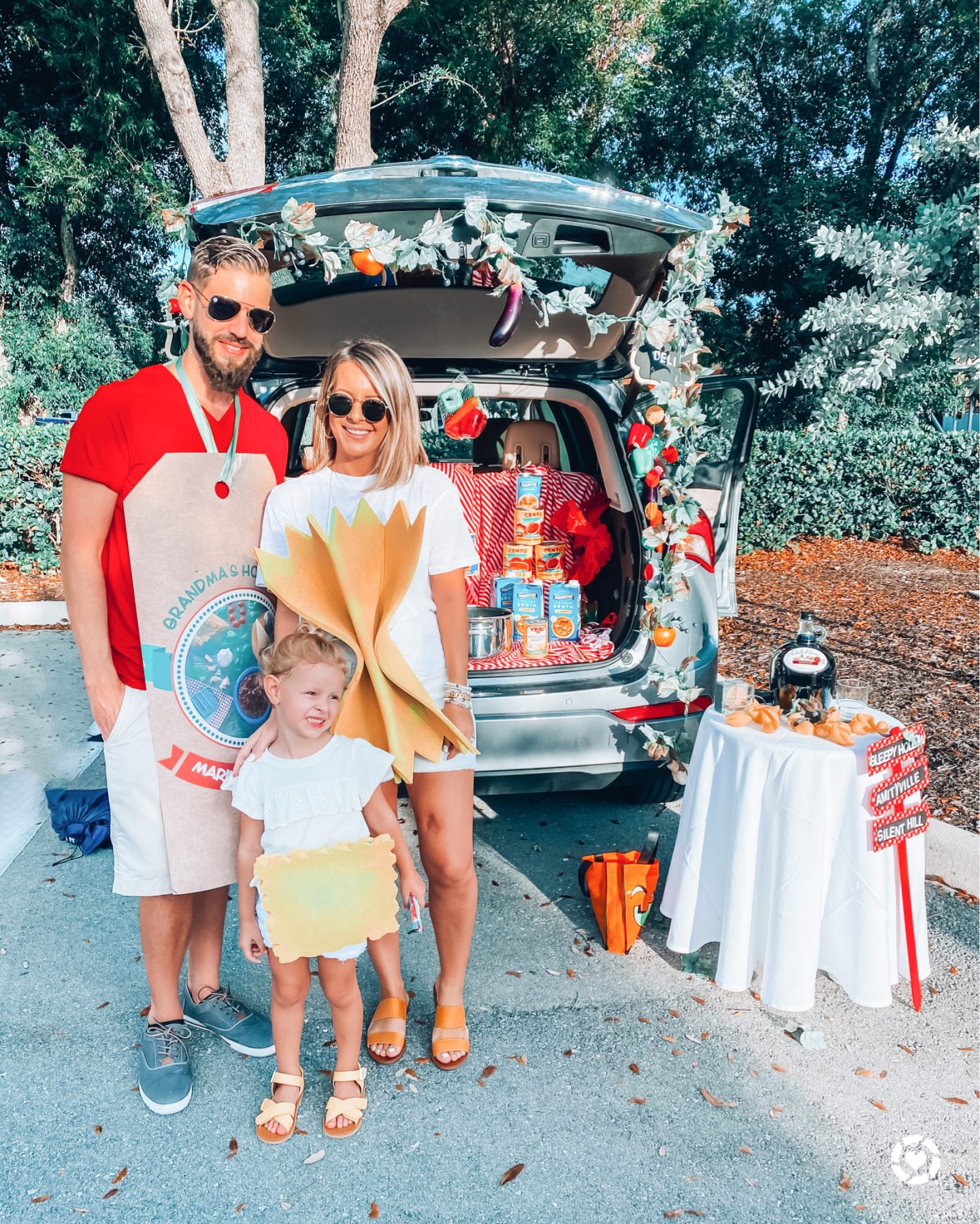 This year we wanted to think outside the box!! So after some researching we decided on a Pasta, Tortellini and Red Sauce costume. This one was a little harder because nothing was available online and it was a very DIY costume! All you need is one roll of styrofoam, a hot glue gun, yellow spray paint, velcro, red shirt and/or a red sauce sign. We just had marinara sauce sign printed at a local print store. 

Super Hero Family
This family costume idea works great because it can work for a smaller or big family! You can add as many super heros as you'd like! I have our exact costumes linked here 🙂
AquaMan/ AquaWoman and WonderWoman!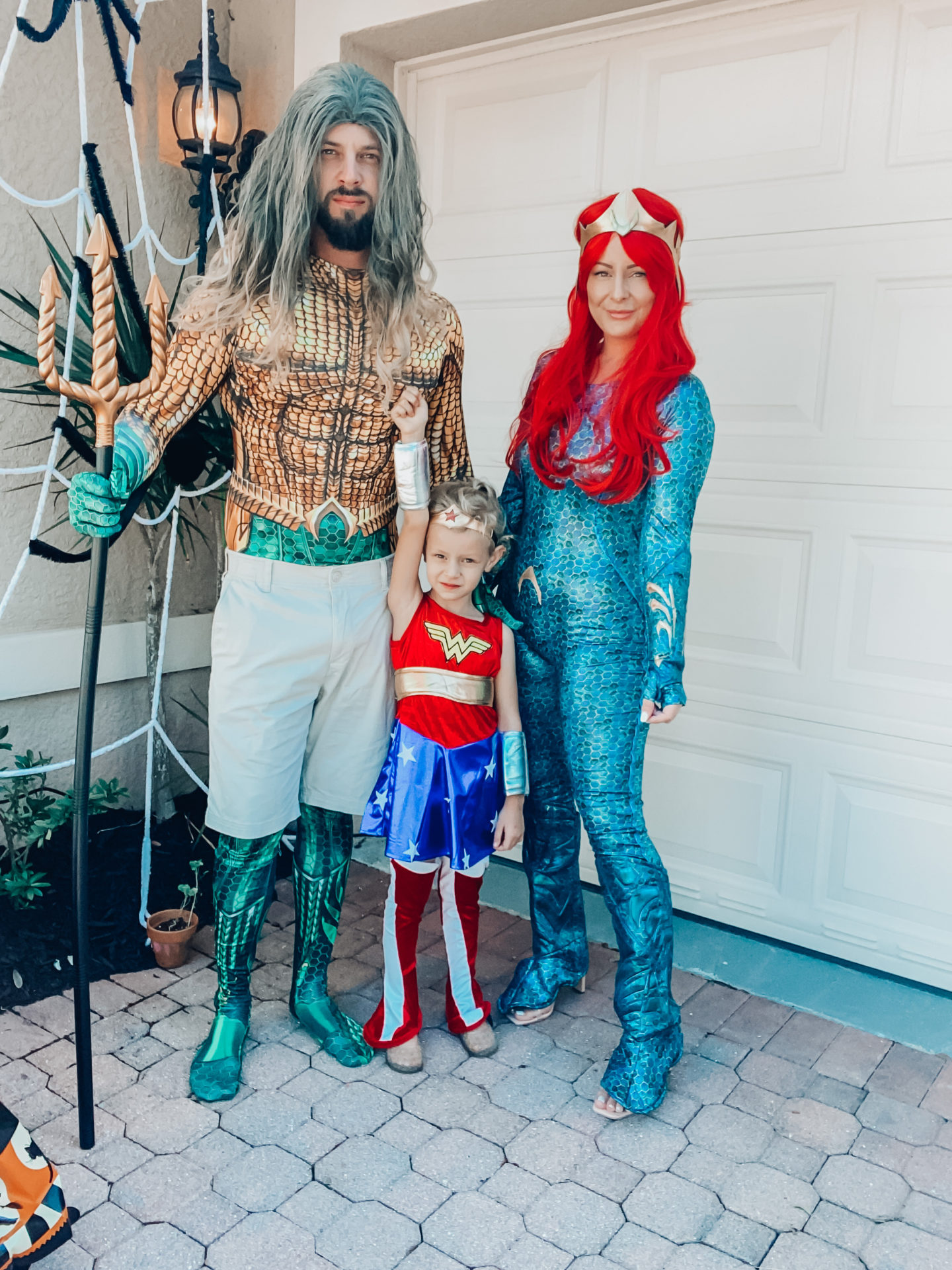 The Little Mermaid 
Such a fun little family costume. Bonus if you have 1 girl one boy, we just made Mila into Sebation. You can also make this costume for a bigger family or adding your parents like King Triton, Scutlle and so on!! I've got this costume linked here. 
More Family Halloween Costume Ideas!
Family of 3
Ice Ice Baby
Bath time (Sponge, Soap and Ducky)
Rock, Paper, Scissors
Family of 4
Schitts Creek
Disney Park Food
Dunkin Donuts
Family of 5
Adams Family
Star Wars
Lego Family
Hope this blog helped spark some ideas for fun family Halloween costumes! Now go enjoy, be creative, have fun and make memories together.