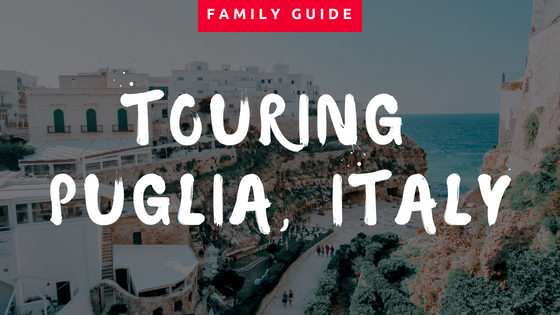 The last 3 weeks we traveled for the first time with our almost 2 year old baby Emma, across the world in 2 different countries. We started off in Tirana, Albania where our rental apartment was located. Most of our time was spent there with family besides when we went to Jale, Albania and to Puglia, Italy for Emma's second birthday.
When we planned our trip to Albania for my sisters wedding, I realized we would be there for Father's Day and Emma's 2nd birthday. So, I did some research and found out there were direct flights from Tirana, Albania (less than an hour long) to Bari, Italy. I had read about a bed and breakfast and booked our flights to correspond with our return flight home and not to conflict with our other trips we had already planned!
Disclosure: Any places and recommendations are of our own experience. You may also shop some of the photos below in the "Shop this look" areas, I am affiliated with these posts and receive a small commission.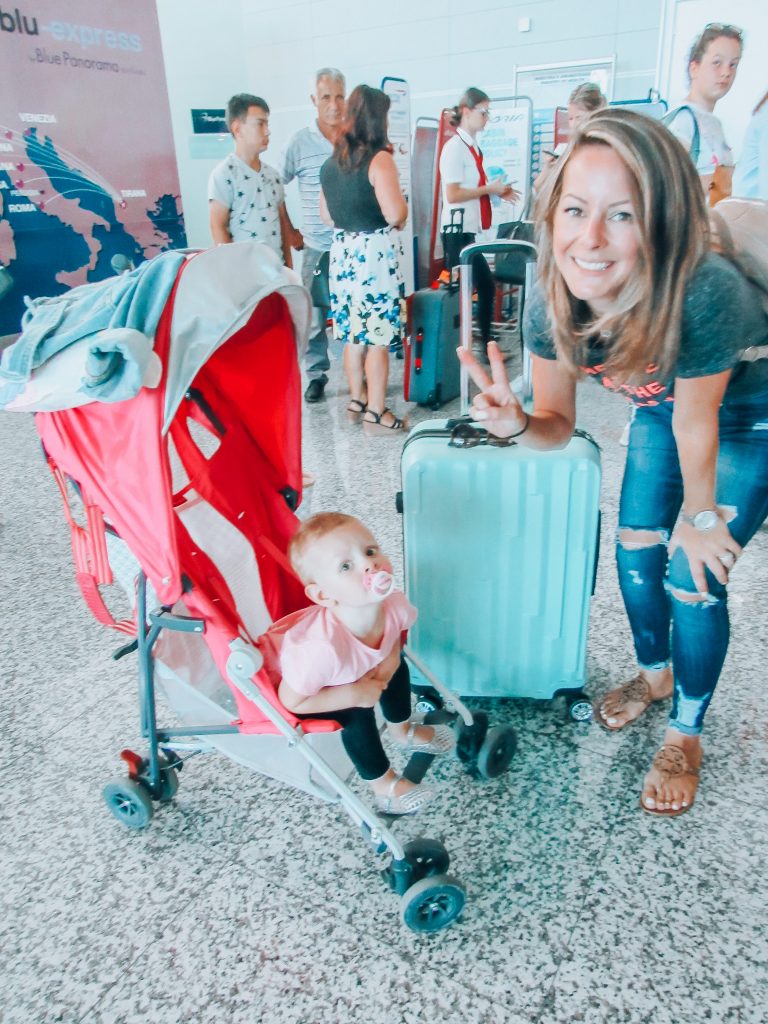 Puglia, Italy
Once we landed in Bari, Italy there was a driver waiting for us at the airport and took us directly to our Bed and Breakfast Antico Mondo, in the center of Puglia, right past the arches. I had booked the transfer ahead of time with the bed and breakfast, I do this on international travels, takes away the hassle after getting there.
Antico Mondo came up a lot on Pinterest blog posts and Travel Advisor recommendations and it did not disappoint. Their staff was very attentive and helpful, their breakfast was delicious and their rooms really gave you a sense of living in a little Italian town and emerging in the culture. The bed and breakfast had a main building where reception was, breakfast was served and a couple of the rooms were located. The other rooms like ours, was located throughout the streets of old town Puglia.
Our room was in one of the many small alley streets of the old town and a straight 3 min walk to the breakfast room. When you enter the room you think you have a first floor only to find out you had a second floor balcony in the back, looking out at other Italian streets. The room was very comfortable with a kitchenette area and a bathroom that had been recently remodeled. We asked for a crib for Emma and that was provided at an additional cost. The balcony & a bottle of red wine had to be our favorite past time when Emma went to bed at night.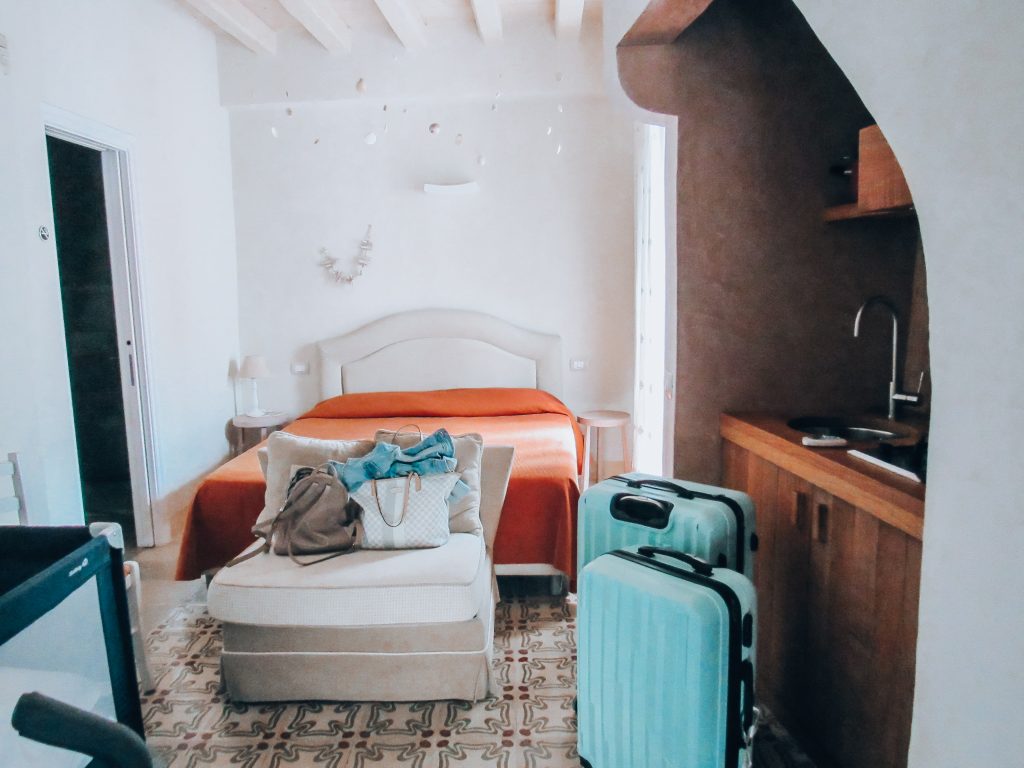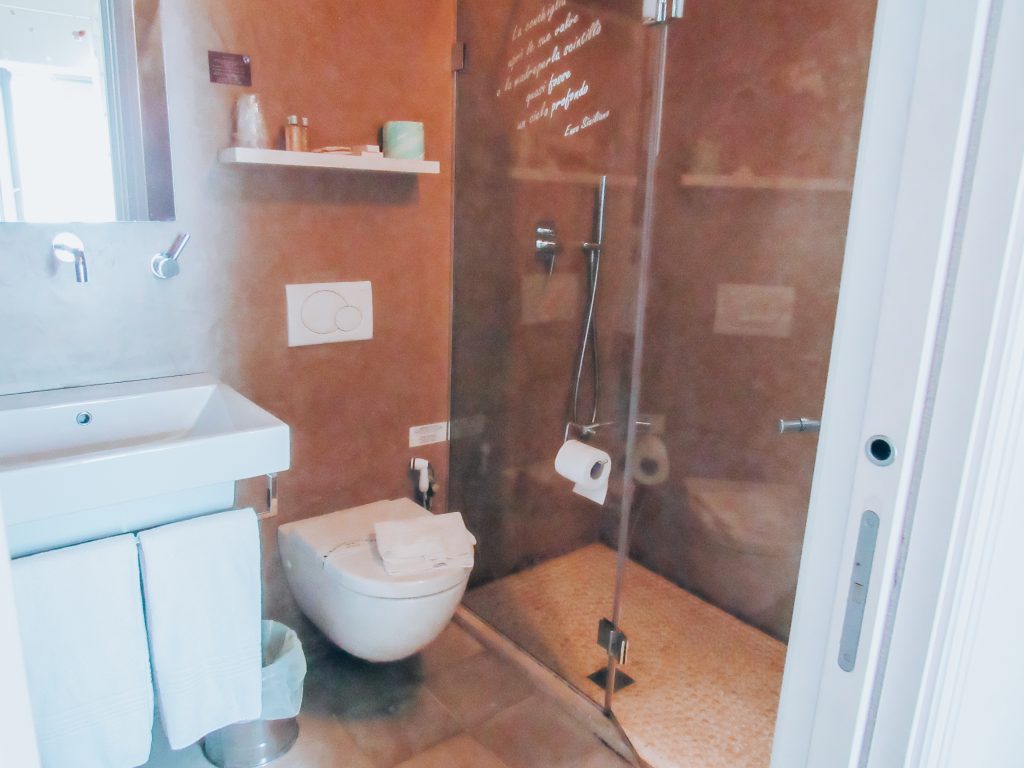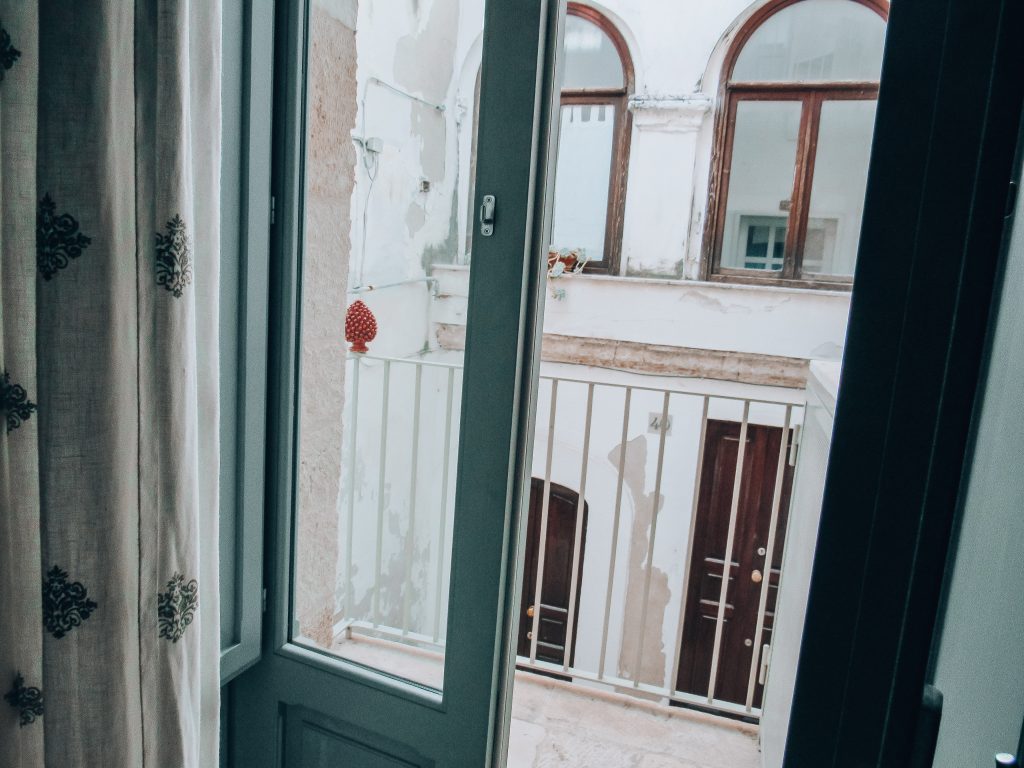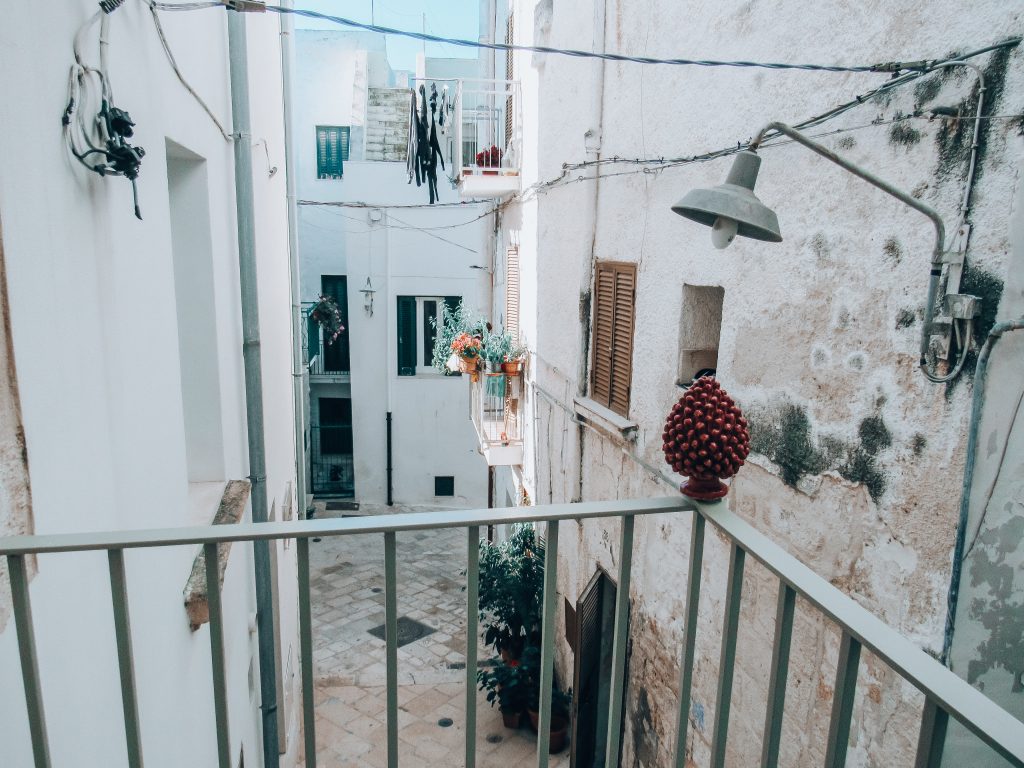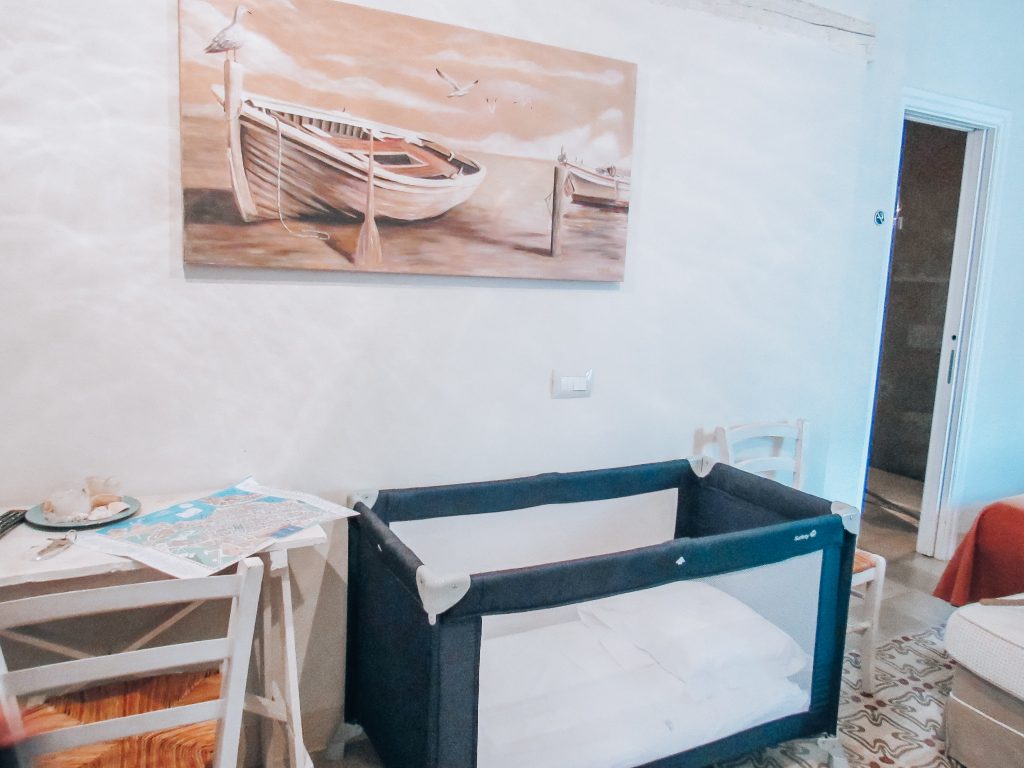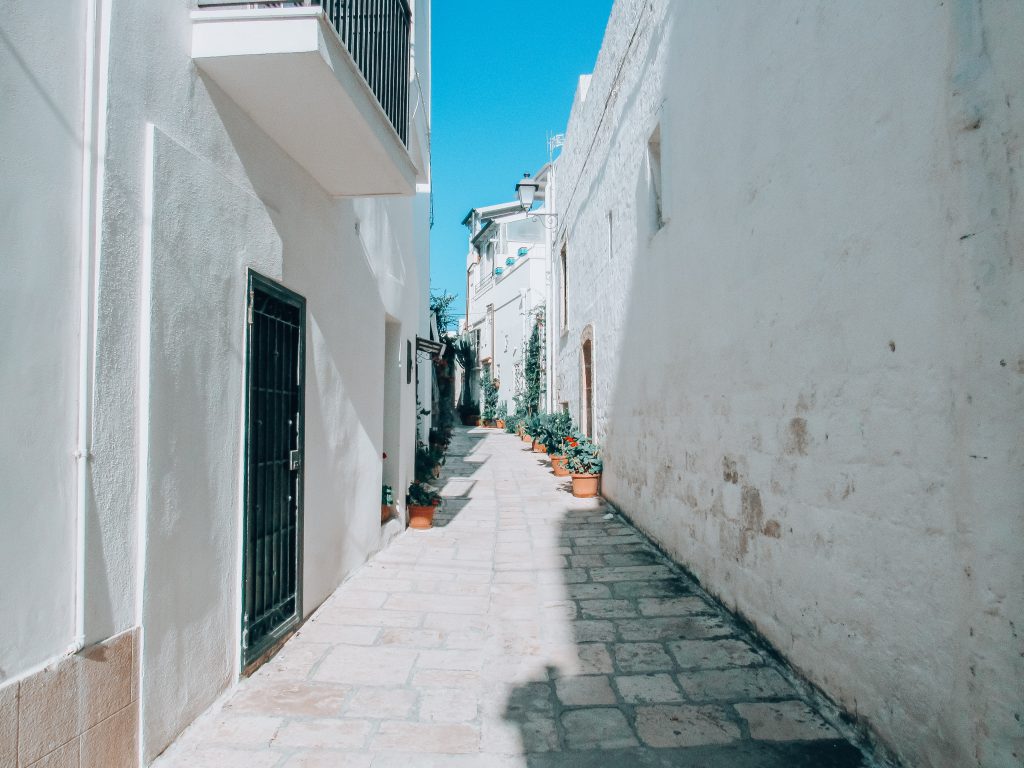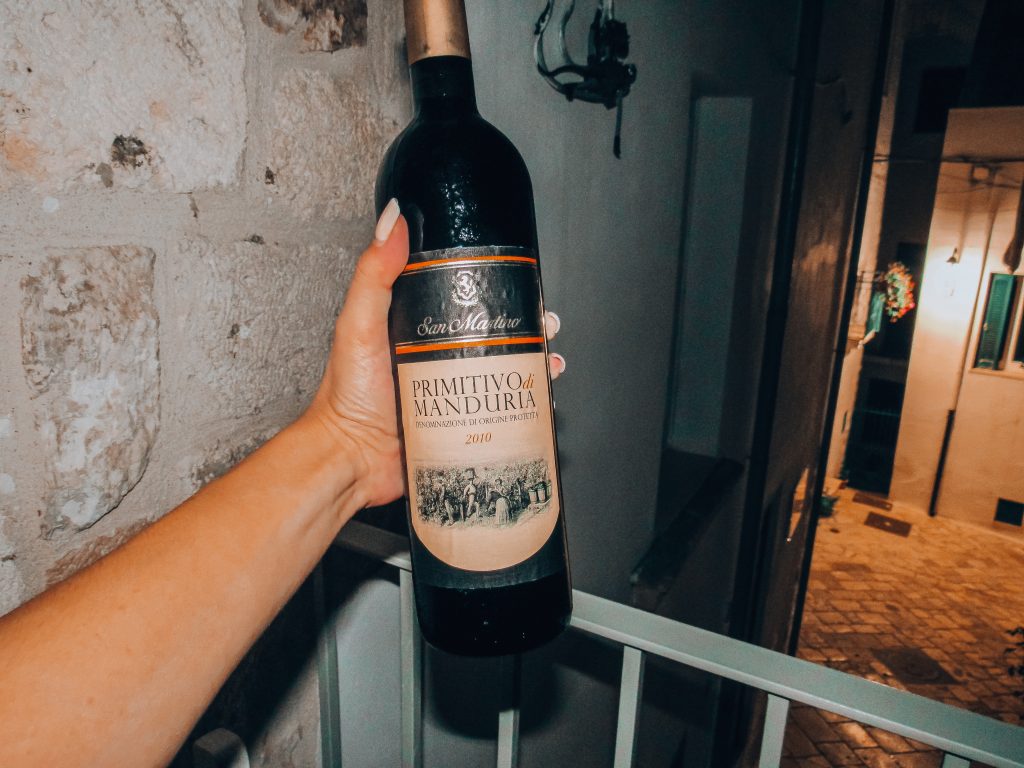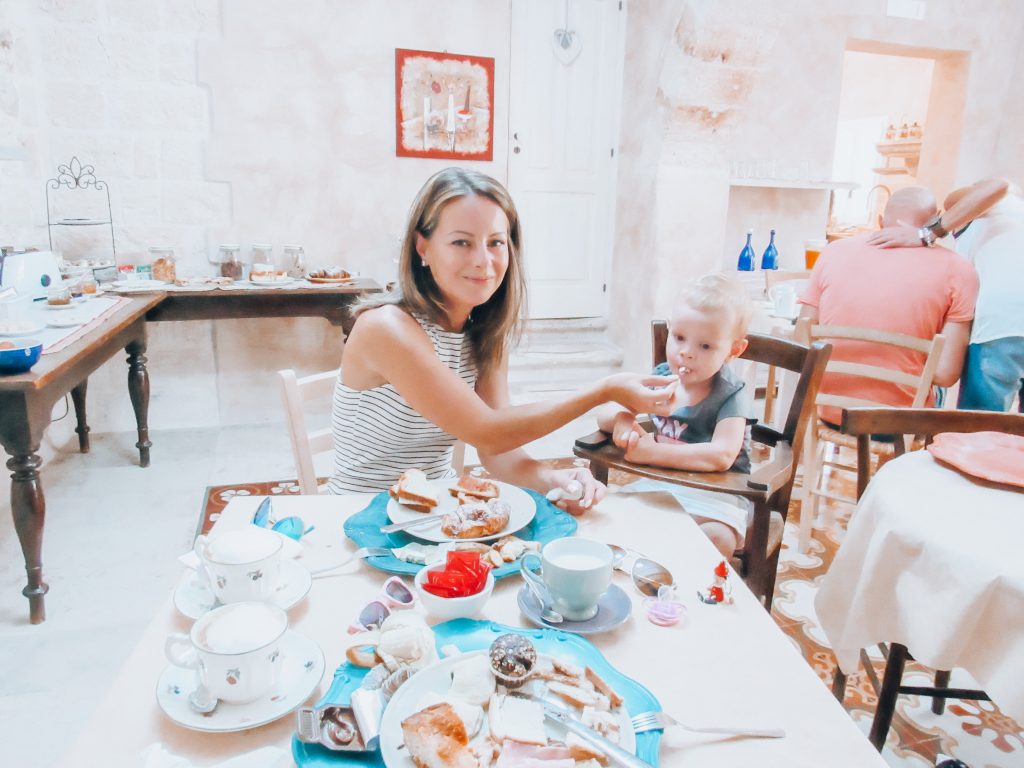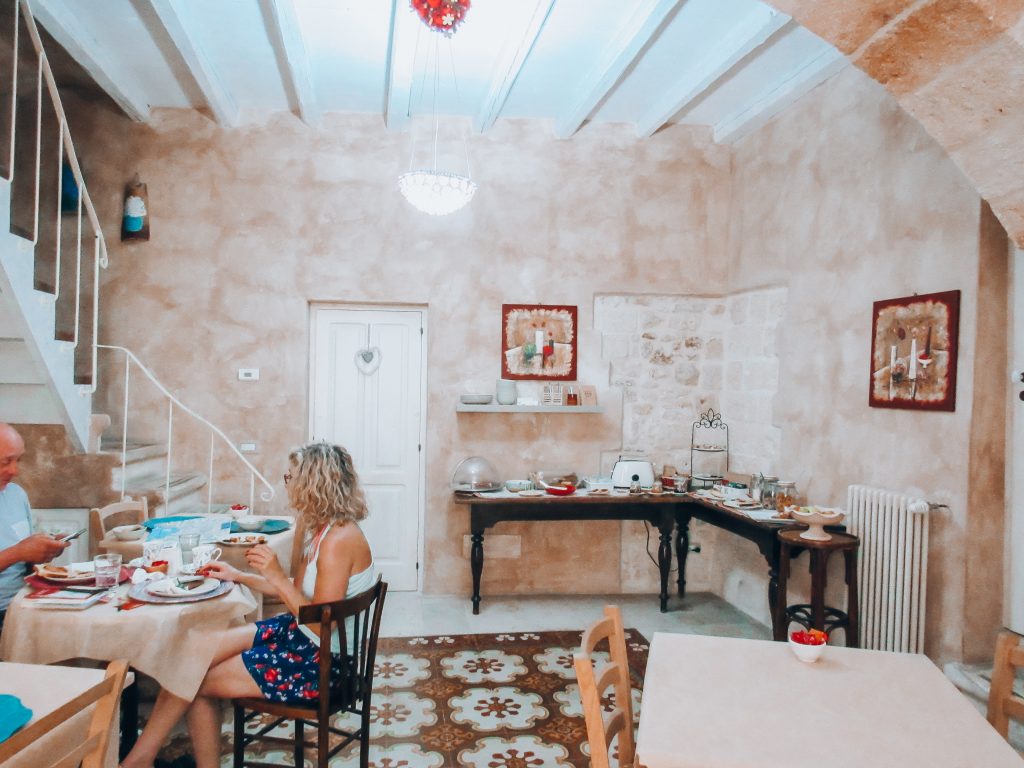 Night 1
The first night, after we settled we decided to go out for dinner. We had an early dinner and afternoon stroll because Emma's schedule was out of wack from not taking a nap on the plane there. But we didn't mind, we were excited to explore but also exhausted from the past weeks abroad. That night we ate at Pic-Nic Casa Mia, which was a 5 min walk out of old town and across the street. Their pizzas were delicious , I love the spicy Diavola Pizza! This was a very casual restaurant perfect for families with kids overlooking metro-city look Puglia!
Right next to this restaurant was a carousel and kids toys that opened every afternoon. This whole area had other restaurants, bars, ice cream shops, retail and souvenir stores. After dinner we walked through old town and noticed that almost every alley ended with a open area/balcony with a sea view to take in the city rocky landscape.
Shop this look: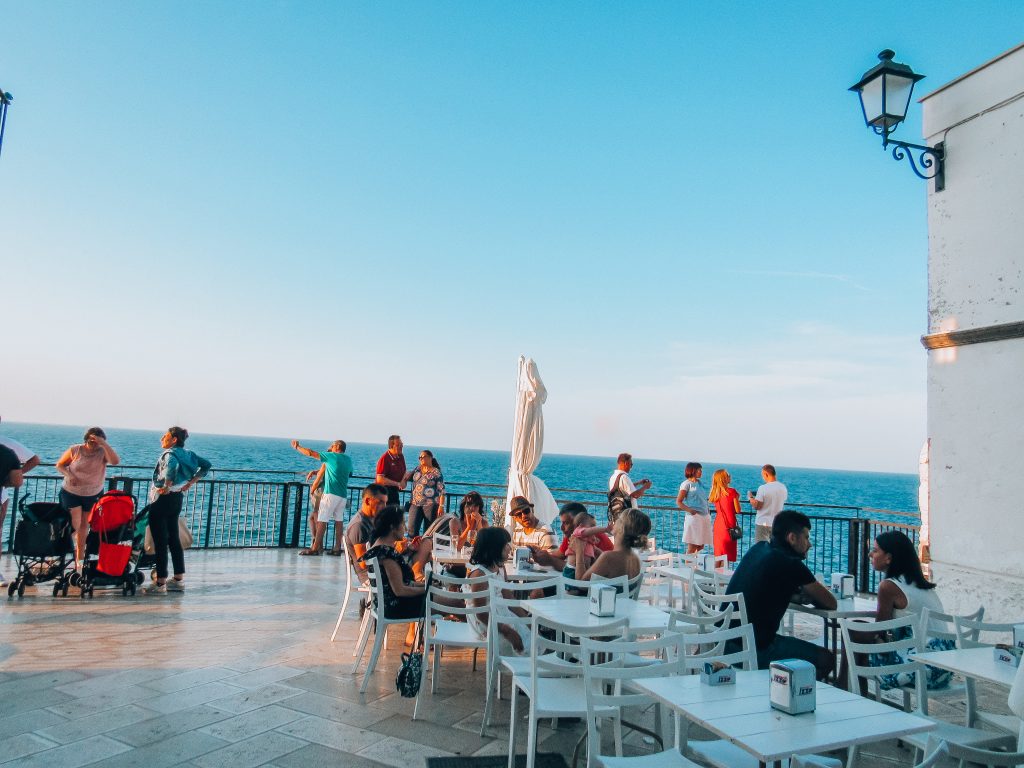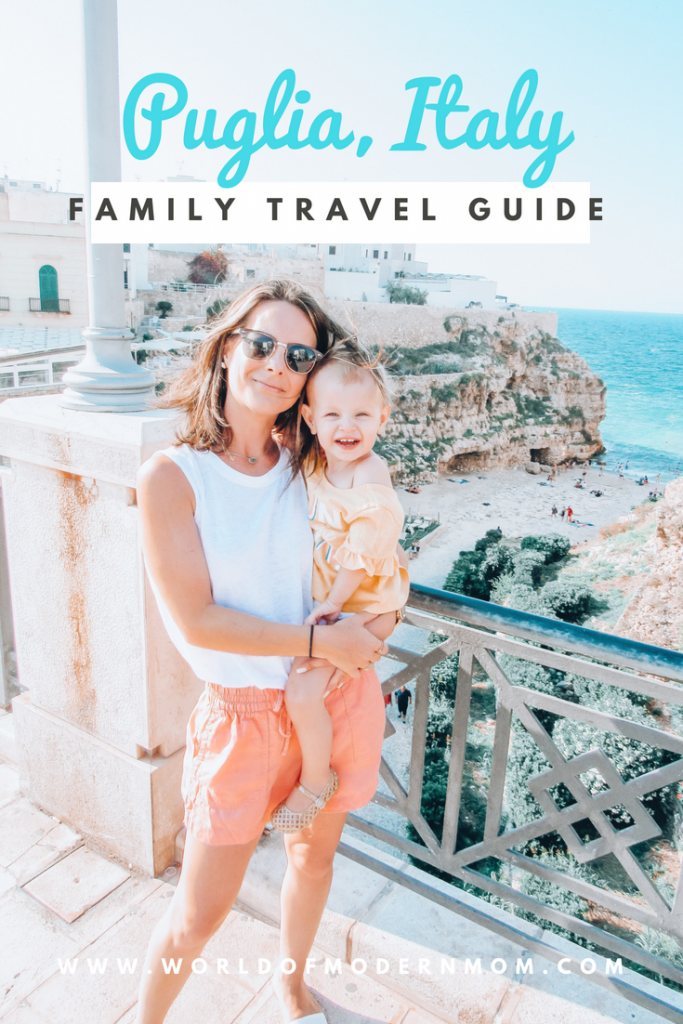 Day 2
The next day was Emma's second birthday and we knew we wanted to spend it by the beach, her favorite activity. Our day didn't start as planned because that morning I found out my grandmother had passed the day before but I wanted to stay positive for our baby and tried to enjoy every moment the way my grandmother would have wanted me too. Once we had breakfast, the staff at the bed and breakfast arranged an electric golf cart ride to a privately owned only sandy beach in Puglia, Cala San Giovanni.
As soon as we got there, we knew Emma would love it. They had a small wall barrier which they put families with smaller kids, to stop them from running in the water unsupervised and lots of beach toys for the kids to play. Emma played in the sand next to us for hours, without moving, all of you that know Emma, know this is very unusual. For lunch we ate at their picnic area, where they was a self serve walk up bar with drinks, snacks and fruits! They also had fire roasted pizzas and sandwiches. The picnic area/restaurant had kids toys all around and different areas to sit at.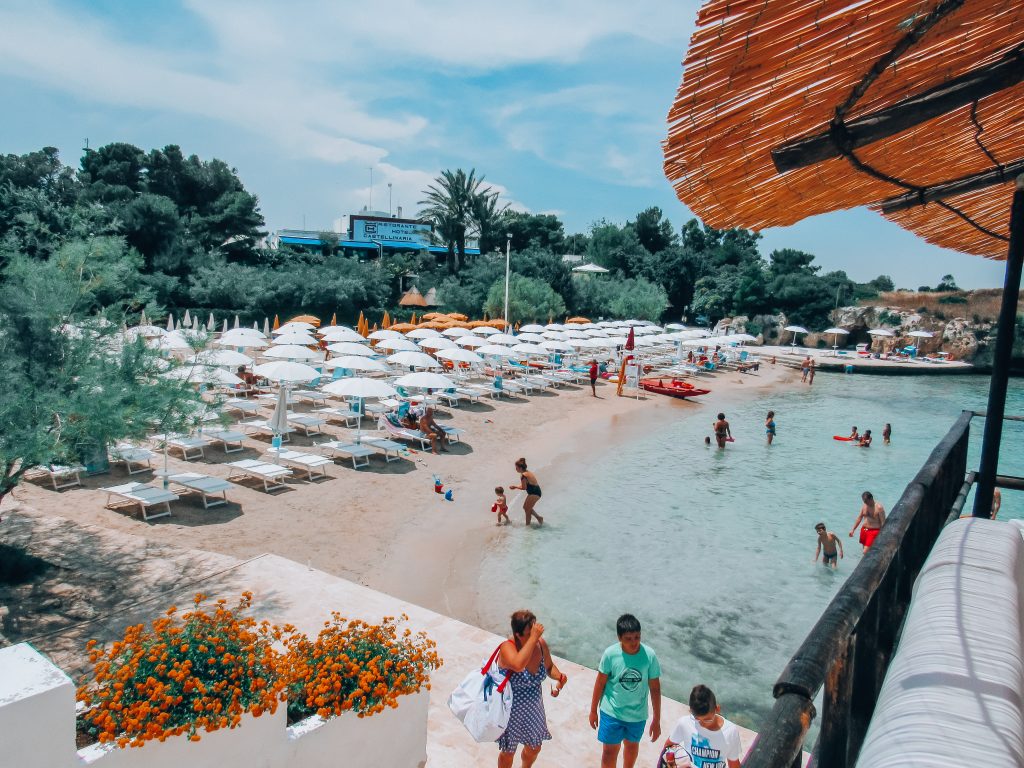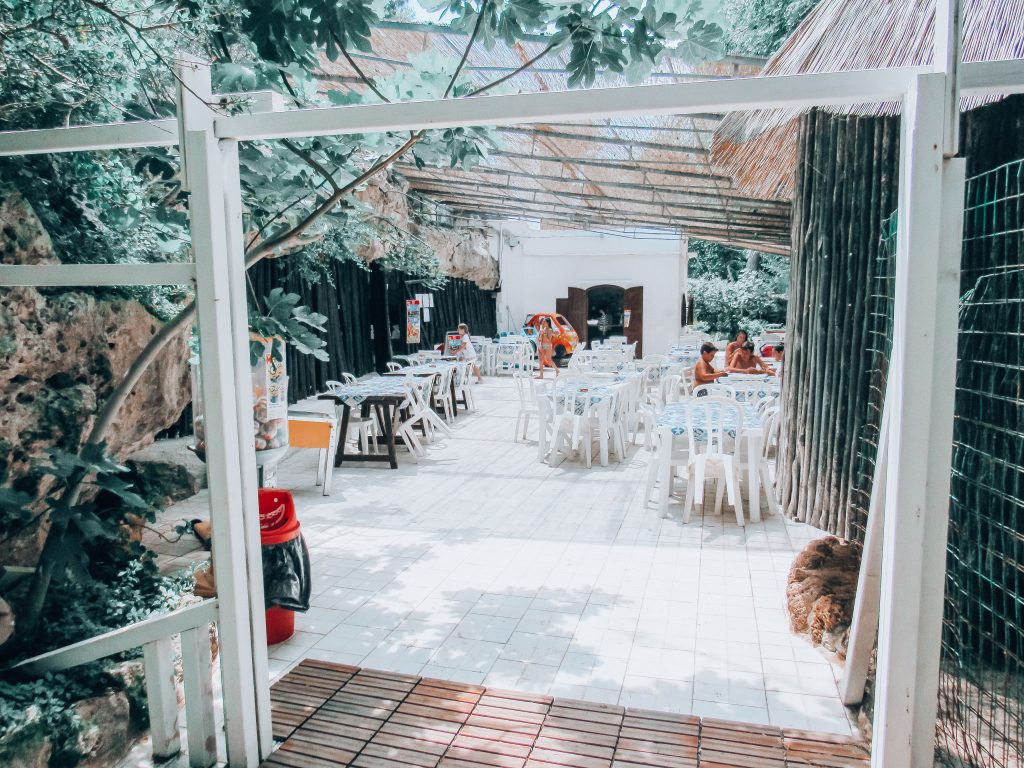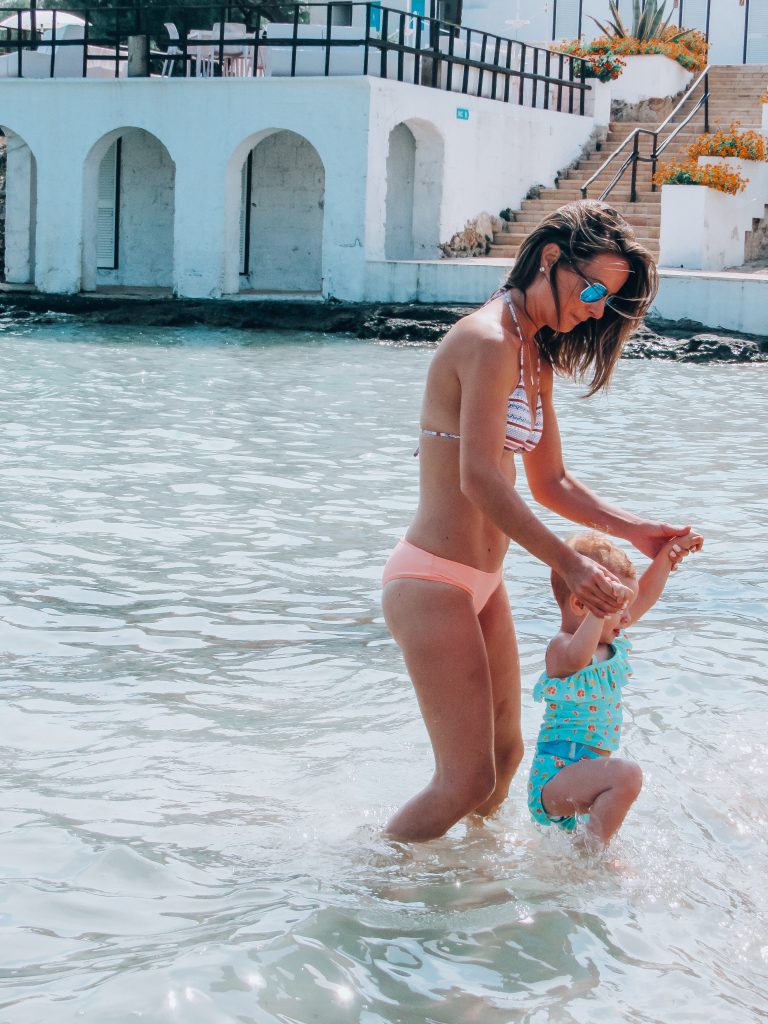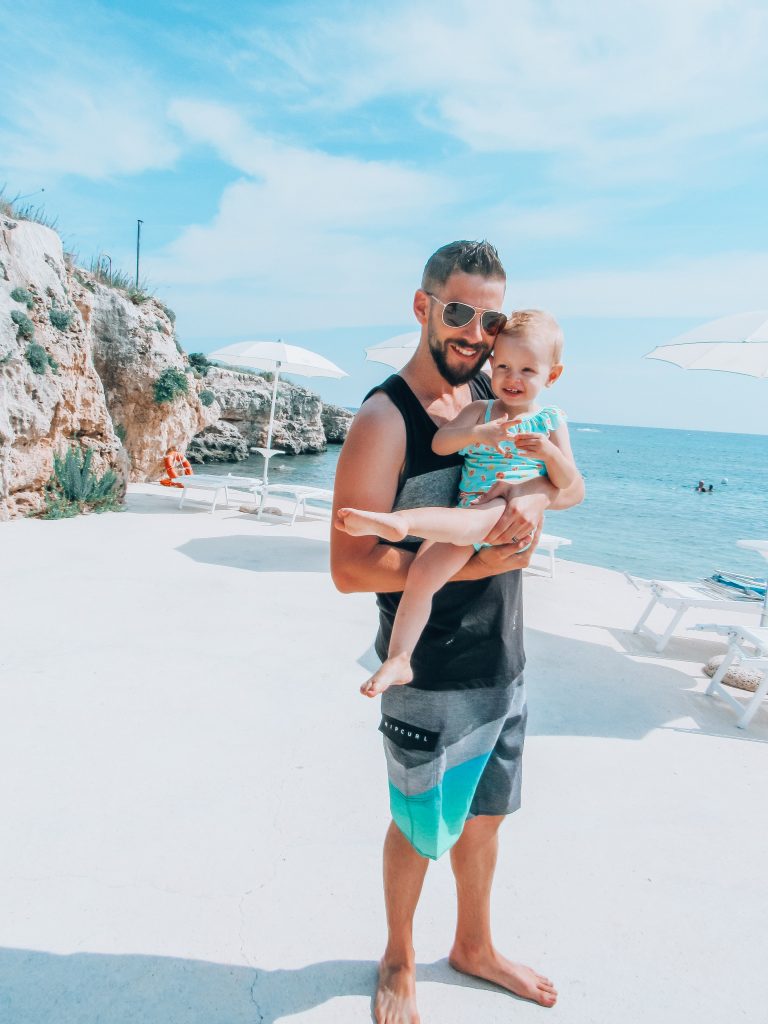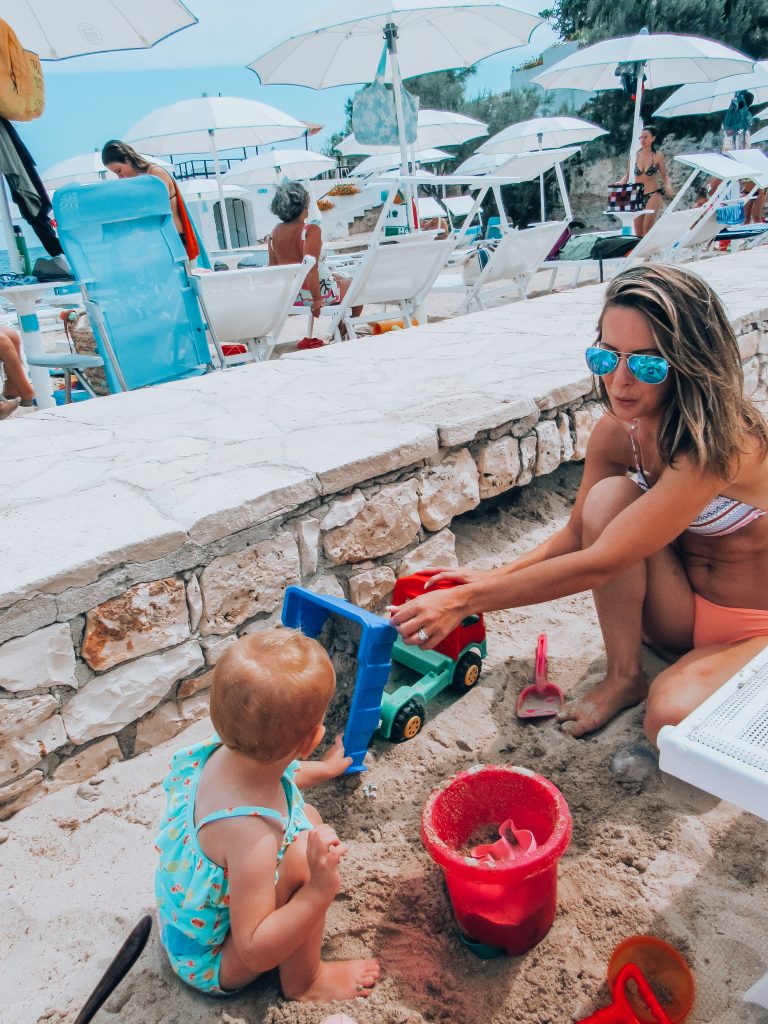 Family Friendly Restaurants:
That night we went out to dinner after taking a 3 hour nap, yes all of us! We had a great dinner, went out for ice cream after and Emma rode on the carousel 3 times. I think Emma enjoyed every moment because she was genuinely happy all day 🙂 look at her smile on the picture below! We had dinner at Pizzeria Bella Mbriana and even went back again the last day for lunch because of how delicious it was. The restaurant was right in the piazza next to our room which worked great for us.
Shop this look:

Shop Emma's Birthday Outfit: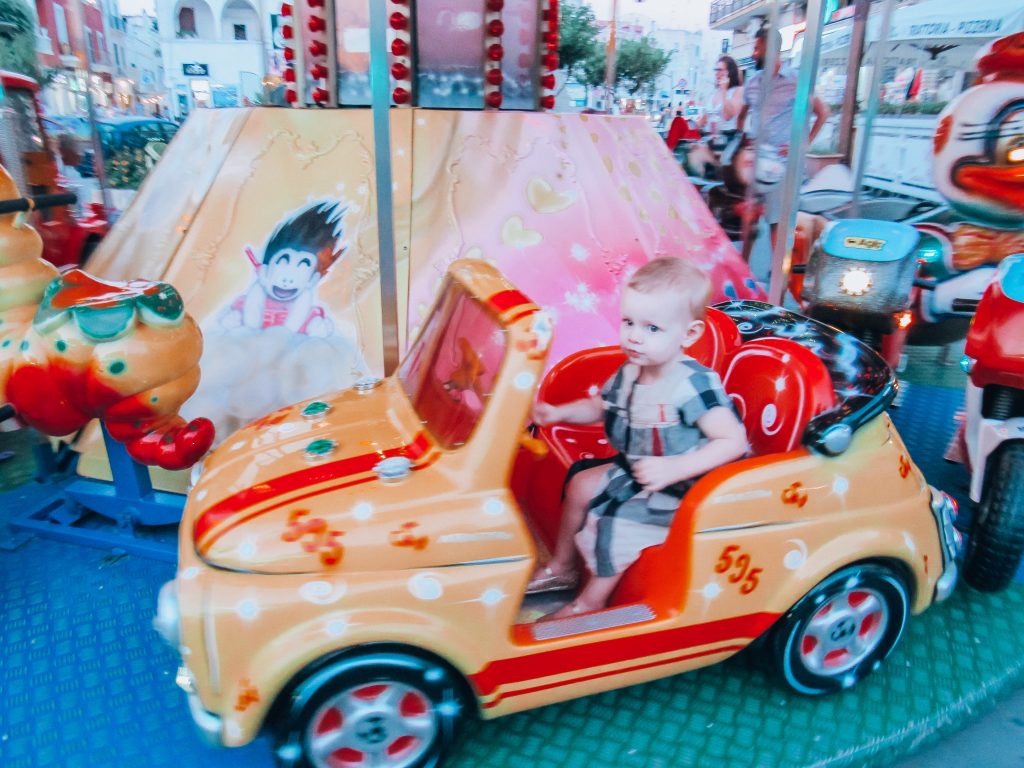 Day 3
The next day was our last full day and night. The staff at the bed and breakfast recommended Coco Beach Club for the day and arranged for a TukTuk to take us. We thoroughly enjoyed the morning rides to the beaches, the air was so clean, crisp and refreshing to wake up too. Once we got to Coco Beach Club we noticed it was a big lap pool with beach access and 2 restaurants. Shortly after getting settled we realized they had a safely fenced kids area with lots of toys, playgrounds and babysitters. If your child was between the ages of 3-12 years old and could communicate in one of the languages they spoke you could leave them there supervised for a break for yourself. What a treat right? You just paid your entrance fee and that was included as part of the perks!
We sat next to the playground area and watched Emma because she was to young, but the babysitter was so helpful in keeping Emma entertained by bringing new toys out her shed/storage area! She even playing with her and tried to communicate in English. I really enjoyed this aspect of Coco Beach Bar and think other families would too! For lunch we ate at their beach restaurant and the chef personally made Emma's pasta for lunch, because he was the only one that spoke English and could take my order.
Shop our look:

Emma's bows are compliments of Tres Babes Boutique.
As you can tell from reading, Puglia was very family oriented. There were ice cream shops on every corner, toy vending machines, playgrounds and amenities such a babysitters at private beaches. Their food was very kid friendly, I mean every kids loves pizza and pasta, let alone Italian pizza & pasta! And over all their prices were very budget friendly and not what you would expect for a touristy Italian town. A margarita pizza could range between 4 to 7 Euros, depending on the restaurant and a beer, 2 Euros at the most!
Activities/Beaches:
Pugliano Beach (under bridge, arches)
We really enjoyed our family time in Puglia, Italy and would recommend it to any family. Part of being Albanian and experiencing so many different cultures at a very young age, I want Emma to grow up seeing the world too. This is why we choose to do this trip including her, for her to see different cultures, how kids in other countries play and get a feel for their every day to day life!

Shop my look:

Sunglasses from Blender's Eyewear, use promo code: ilda20 for 20% off at checkout!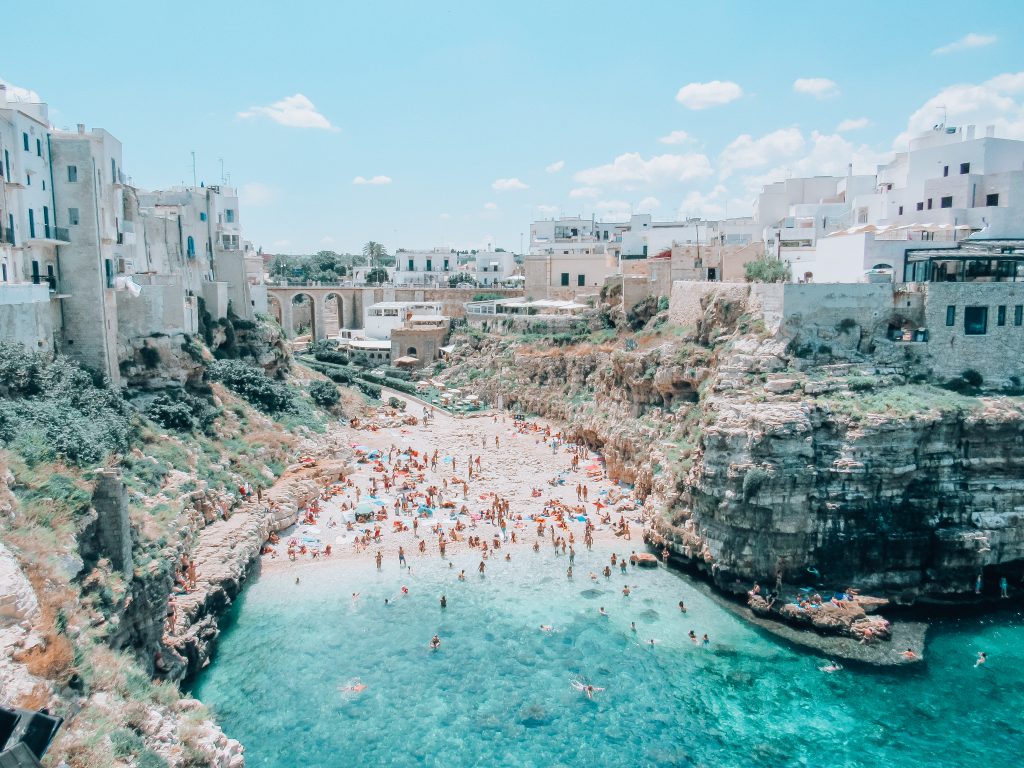 Day 4
On the last day, we had an afternoon flight and decided to stay close to our bed and breakfast. Right around the corner from our bed and breakfast was the Puglia famous bridge arches which led to their only beach. The beach was very small, rocky and crowded. I wouldn't recommend as a beach for small children so we just toured it that morning. We spent the rest of the day taking in the city and eating pizza in Italy for the last time.
Overall, I would say Emma did great! We brought toys, iPads and books with us. She mostly was interested in walking around, exploring and being free. Only taking a break while eating and watching her YouTube videos or when forced in her stroller!! On this trip, we learned that it is possible to travel across the world with young kids and for us a much better investment on their future instead of a Disney trip, which would have roughly cost the same!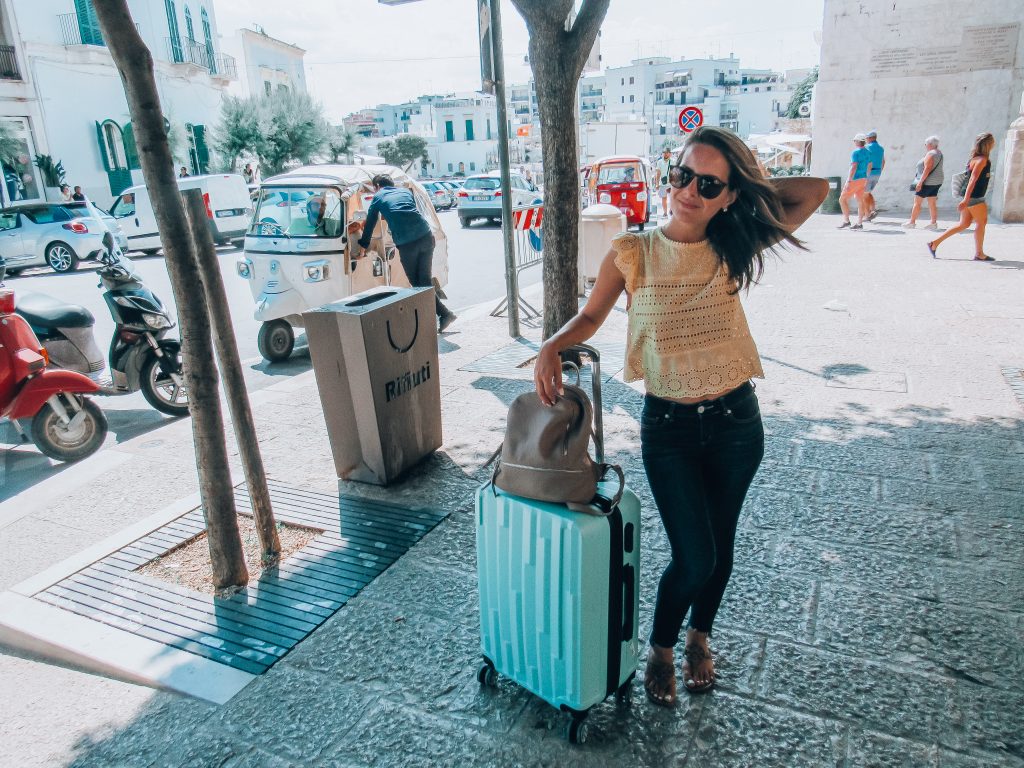 Hope you enjoyed our family travel guide on Puglia, Italy. Let me know if you have any questions or need any recommendations on the comments below! Also, any suggestions on a destinations for our next family trip would greatly be appreciated!
You can shop some other items as seen on my Instagram stories or from the photos above, below!
Shop this post:

-WorldofModernMom