People think staycations are boring now days. With social media, its all about where exotic did you go on your vacation. Well, when you have a baby, exotic vacations are out of the questions, at least with them in tow.
For our first family vacation we decide to stay here and do a staycation. We wanted to do something new with Emma. However, its so hard to travel with her now. Having to pack your entire house, lug it around airports and deal with the starring as you board planes, its the worst! Plus, when you live in a beautiful place like Naples, FL, a staycation is never a bad idea. We wanted a resort that had a lot to do for our family and we also wanted to feel like we weren't in Naples. We wanted to drop off our car and just enjoy the resort and that's why we picked the Naples Grande Beach Resort.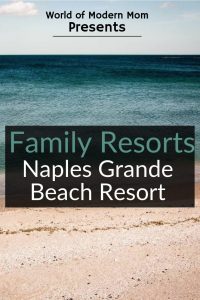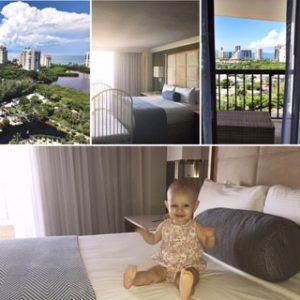 When you have babies even a staycation, close to home can be a disaster if you did not plan right. Before we decided on a resort, I made sure the resort was kid friendly. At least for Naples Grande, I already knew this as I worked there years ago for a period of time. I reached out to my friend Amanda in Reservation and she was a great help with booking our room!
It had been a while since I had been back to the resort. There were new owners that had purchased the resort recently. They had done a lot of renovations. I noticed it through out the resort. The room was renovated, the furniture in the lobby was new, the carpets in the halls were new and the pool cabanas were updated.
Guest Services
We were greeted by familiar faces as soon as we pulled up to valet. The same valet/bellman crew that worked there with me was still there. I noticed this all weekend, so many familiar faces. These people have been working there for so many years. Like our bellman Nino, first of all he is helpful and so informative and has been working there for over 20 years! Wow! Florin, our valet was also very helpful!
We arrived way before our check in time but when we tried checking in, they informed us they had a room ready for us! This was great help with the baby. Our room was on the 18th floor, over looking south Naples and the gulf, simply beautiful.
Resort Pools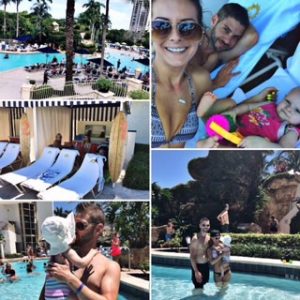 They have a great pool for kids, it has a waterside. The pool also starts at 0′ and water gradually deepens. Emma absolutely, loved the pool. Shes a big fan of water! She got to sit in the pool like in her bathtub and also enjoyed getting splashed by kids coming out of the waterslide! The pool is really big, with plenty of chairs and umbrellas that are spread out. However, we decided to do a cabana, this does cost extra but it was worth it to us for the shade it provided. Carlos & Arta, our cabana attendants was very attentive and friendly. There also was an adult pool, but come on, we never even saw that!
Restaurants
Overall, the food was really good. Everything we tried was really good, the Sunday brunch was delicious. We ate all of our meals on property for the 2 nights we were there.  Once we checked in, we didn't get back in our car till we checked out. We wanted Emma to get the feeling of being away from home and spend quality time together. There kids menu was full of options and the portion was huge. Yes, we made a mistake once and ordered too much for Emma and stuck with it for our dinner. We didn't mind, it was probably one of the best grill cheese sandwiches we've had. We also ate for my birthday at The Catch, the place was phenomenal. The outside seating was perfect for Emma as she napped while we ate. 🙂
Night Activities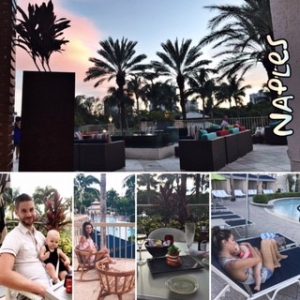 It seemed like there wasn't much to do after 7pm. The pool bar closed, the The Catch and The Lobby Bar were only things open. It ended up working out because we were in bed by 9pm. That happens when you share a room with your baby, but its okay we were exhausted and needed the sleep.
Best Birthday
Doing a staycation for our first vacation as a family of 3 was great for us.  Emma smile as she watched kids come through the slide will last forever in my memories. I will remember my 29th birthday as the best birthday so far!
-WorldofModernMom