I have been a mom now for over a year and its my most favorite job, I've ever had. I love spending my days with Emma and watching her grow into a young lady. I've always loved dressing her chic/comfortable but also buying affordable baby clothes. Babies grow so fast, plus clothes shrink in the wash/dryer so I find myself always buying her more clothes.
Old Navy Kids is where we shop now. Since she turned one. Target Kids used to be where I got her clothes but now that she is over 1, I find it hard to find outfits there. But they have awesome t-shirts, I buy those all the time.
Anyways, I have found that Old Navy Kids clothes are cheaper & cuter than anywhere else, there is always a clearance section, plus they always run discounts on top. There is a lot of variety too, from dressy outfits for events to relaxing family days t-shirts.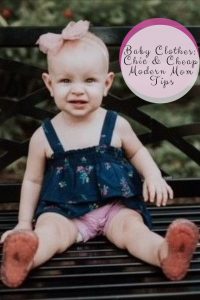 The top in this picture is from Old Navy, I got it one sale for $9.97 – Tiered Ruffle Linen Blend Top & Mary Jane Jelly Sandals for $6.97. I bought these sandals in a couple different colors and styles. I find they are easy and comfortable for her to wear now that shes starting to walk.
The shorts are from Gymboree. Their prices tend to be higher but sometimes in their sale section you can find good pieces. Like these Bubble Shorts in Poppy Pink for $8.39.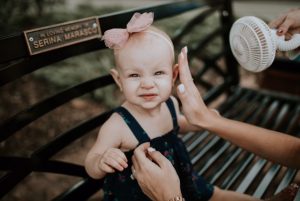 The bow on the other hand is more expensive. I only buy these on special occasions but I love how they can dress up any outfits. At the moment Emma doesn't enjoy anything on her head so I was really surprised she wore this headband the whole photo shoot. 🙂 But it also looks like she enjoyed the extra attention ha ha. The headband is fro Oh Baby, Glinda Bow, you can order them online or Little Luxe here in town carry's them.
The outfit without the headband, cost roughly $26 but all the pieces can be worn again by changing pieces of the outfit.
These are some of my favorite store. What are some of yours? Any that I need to check out??
-WorldofModernMom