Happy October y'all!
I don't even know when September started or ended. September was a chaotic, emotional and stressful month for our family. The month started with getting prepared for Hurricane Irma then dealing with the aftermath of it. When we started getting in the swing of things I got a sever burn on my arm while cooking. The burn was so bad that it was prone to infections and that's exactly what happened. After a visit to the doctor and a week long of treatment at home I can say its healing! Then Emma gets a fever and is sick for days from teething. This was the first time in her 15 months that she ever had a fever and that it was from teething. So yes, it was a very long month.
The past week things finally settled down and this mama got to go shopping and dress up for a week.
So lets talk about the outfits. I will talk about each outfit in detail.
Fall into October Look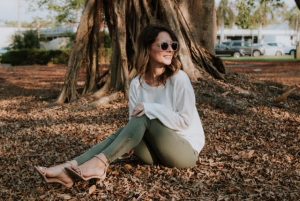 For this look, my inspiration was fall sweater weather but living in Naples, sweaters can be hot. First of all this sweater is the comfiest softest sweater I have ever felt and on top of that its super light which is perfect for fall in Florida. They have this sweater in 3 different colors, black, ivory and maroon. The jeggings are also so comfy and fit perfect. I am 5'2 and sometimes jeans/tights can be too long on me, not these jeggings! They are the perfect length to wear heels, booties or sandals. Vici Dolls always has these jeggings on stock and they have so many different colors available. Also the nude strappy heels are from Vici Dolls, I bought them last year around this time. They have been sold out for a while now but I am hopping soon they release a new pair because I need another pair NOW!! Because I wear them so much!
Also for ways to save when shopping Vici Dolls, read my blog on Chic Modern Women's Clothing Boutique
Everyday Outfit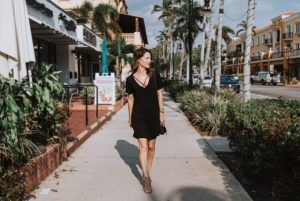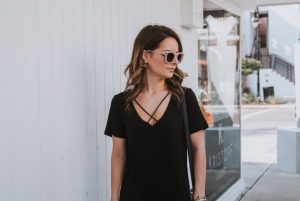 Lets talk about this dress…obsessed! So comfy & easy to throw on for everyday/errands. Seriously never want to take this t-shirt dress off because its so comfy and love the criss-cross detail. I threw on these peep toe booties and this black over the shoulder bag. This dress is available in black and burgundy. The booties and black bag are currently sold out but the dress is available. Click on the link below.
Out on the Town Maxi Dress

This maxi dress had me feeling like a model. With the high low look flowing in the wind, I just wanted to strut my stuff as if I was walking a runaway. I love maxi dresses but again with being 5'2 sometimes they can be too long. But not this dress, it was the perfect length and fit like a glove. Its a great dress for any beachy vacation or just a night out on the town look.
Rose Garden High Low Maxi Dress
Date Night

When I saw this top hanging on a hanger in the store at Forever 21, I fell in love and thats the way I felt the whole night. Not only was it date night and I am so in love with my yummy hubby but I was in love with the way this shirt fit on me. The top has a satin flowy look with adjustable straps and a self tie and tassel accent. I paired it with a pair of dark blue high wasted jeans and nude strappy heels.
Contemporary Ruffle Sleeve Top
Girls Night Out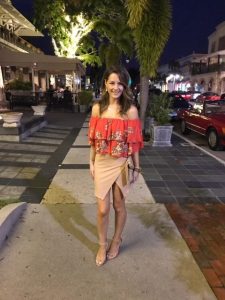 I had the pleasure of going out for a girlfriends birthday this weekend and this was my outfit for the night. It was mostly a girls night and I knew we would end up at a club dancing the night away. I wanted a sexy and comfy look. For this outfit I headed to Forever 21. I love pencil skirts but sometimes they can all be too alike, the high low slit on this skirt had the perfect edge for something different. The off the shoulder crop top was also very comfortable, it did not slip at all and I didn't have to adjust it. I noticed online that the top is available in a lot of solid colors.
Sunday Brunching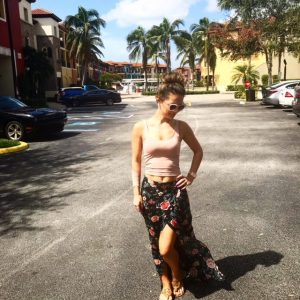 Sunday funday is the definition of brunching. Who doesn't love to sleep in on Sunday, then head to a mid day breakfast date with friends and drink bottomless mimosas?? But at the same time, too lazy to do your hair and put to much effort on your outfit. Well this outfit from Forever 21 was perfect for that. The outfit was a steal for under $25.00. The skirt has a matching crop top but I choose a nude cropped tank top.
Off the Shoulder Floral Crop Top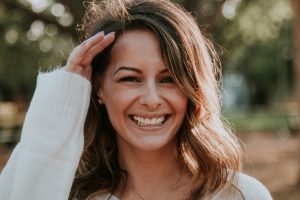 Hope you enjoyed my latest outfits and found some inspiration for your own.
If you wish to shop any of these outfits, follow this link to Shop My Instagram.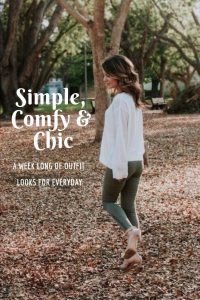 -WorldofModernMom