Happy November! I can't believe Octobers gone already and Christmas is just around the corner.
For todays' blog, I am writing about our past summer/after baby-moon cruise on the Norwegian Escape exploring the Western Caribbean.
We have always cruised and have done numerous cruise lines and destinations. Our honeymoon was spent on the Norwegian Epic, cruising the Mediterranean. This past July, we did another one and it happened to be Norwegian again. While I was pregnant, we didn't do a baby-moon. I was always tired, a homebody and didn't find enjoyment on vacationing without booze ha ha. We decided, after Emma turned one, we would do our baby-moon.
Norwegian Cruise Line
We knew we wanted to do a cruise, we like the convenience of waking up in different ports, getting a chance to explore and not drag your bags around and having a home, away from home. Our first cruise was on Royal Caribbean, cruising the Bahamas for my 21st birthday, 8 years ago. Since then, we have been on Royal Caribbean, Carnival, Princess and Norwegian. Norwegian is by far our favorite.
So, deciding what to do was not hard, we knew we wanted to cruise and it would be on Norwegian! We feel Norwegian always has the newest, coolest, most activities at sea and excursion options! We love the freestyle dining, eating when and where you want. They have so many restaurants/cuisines to choose from, more than 25 options on the Escape. The Norwegian Escape also offers waterfront dining, 2 Jimmy Buffett venues, wine cellar, hand-crafted specialty cocktails, water slide,  ziplining and so much more! The Norwegian Escape was voted 2017 Ship of the Year by Ocean & Cruise News.
7 Day Western Caribbean Cruise
For this particular cruise, we decided to do a 7 Day Western Caribbean itinerary. We had a couple, that is one of our best friends, join us! Which made it that much more fun and we got to spend some adult time together. We had decided we would do 2 excursion through Norwegian. Each couple would pick one and then the rest of the days we would play by ear.
Below is a summary of our itinerary.
Day 1                         Miami
Day 2                         At Sea
Day 3                         Roatan, Hondurous   (no excursion)
Day 4                         Harvest Cay, Belize     (no excursion)
Day 5                         Costa Maya, Mexico    (Chacchoben Mayan Ruins)
Day 6                         Cozumel, Mexico         (Fly High Zipline)
Day 7                          At Sea
Day 8                         Miami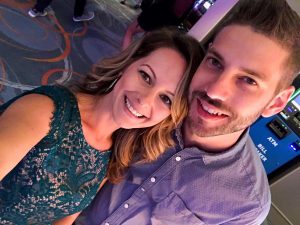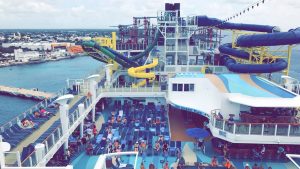 Day 1 & 2
For the first couple of days we got to explore the ship. We ate dinner at the Brazilian steakhouse, waterfront dining the first night. I will never forget the meats they carved tableside and the experience of eating outside on the cruise ship. The next day was our at sea day. We enjoyed the pool activities, a sit down lunch, taking an afternoon nap and eating at the Japanese Hibachi restaurant (can you say…. SAKI) for dinner. Anyone that knows me, knows that sounds like the perfect day to me!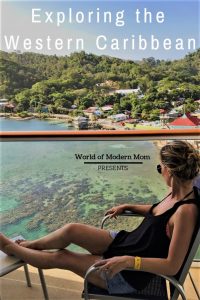 Day 3
We all were looking forward to exploring Roatan, Hondurous on our own. When we woke up that morning and looked out our balcony, we were shocked. It had to be one of the most beautiful ports we had seen. You could hear the welcoming reception from the locals as we disembarked from the boat. We didn't have an excursion booked but wanted to see the beach.
We ended up going to a hotel/pool/beach resort for the day. This place was so beautiful and the water so clear here. There was a restaurant, pool, beach chairs, volleyball and music. We spent the day there, enjoying the beach, drinks and lunch on our beach chairs. This was an adventure we went on our own and found a local tour that was offering this. Later that night we ate at La Cucina, this is considered specialty dining and there is an additional cost. Because we had booked balconies we had 3 free specialty restaurants and a free alcohol package included which was amazing!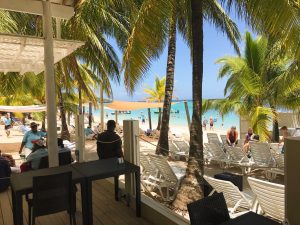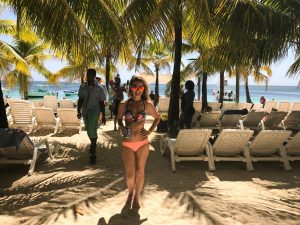 Day 4
Harvest Cay is Norwegian private island, so almost everything is man made. We were excited to spend the day on the beach but it ended up being a very cloudy/thunder stormy kinda day. The clouds were so dark, that after walking around the island for 45 mins we decided to go back on the ship. The other thing is that, even though Norwegian owns the island, nothing was included. You have to pay for water, lunch, drinks etc. So for us, it was not worth it. We went back on the ship, ate a nice lunch, went on the slide and drank the afternoon away.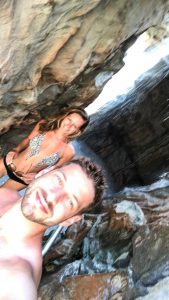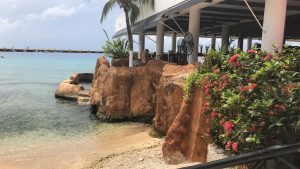 Day 5
This by far was my favorite day. We had booked an excursion through Norwegian. The excursion started early in the morning and our ride to the Chacchoben Ruins was about an hour. Our guide was phenominal. He was so funny and full of knowledge on the Mayan culture! The tour was about 2 hours long, hiking and climbing the ruins. It was a lot of work and a very hot day but the views we saw that day, will forever be in my memories. When we got back to port, we decided to try some tacos and sit by the water with some cold beer! That night we ate at the main dining, in the Manhattan Room, which was very tasty!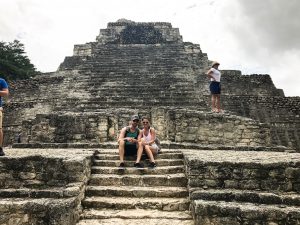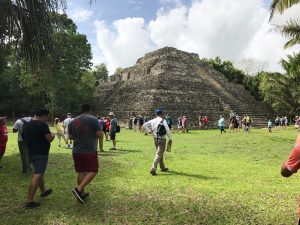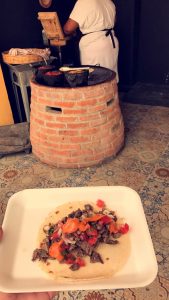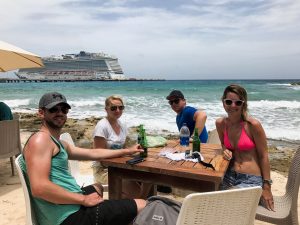 Day 6
This was the day I  was not looking forward to. We had booked an excursion to zipline and I was terrified. I am scared of heights and wont even do roller coasters. But I wanted to conquer a fear and I am so glad I did! I absolutely loved it, there was no feeling of a drop (which is what I hate) and I enjoyed zipping through the scenery. My least favorite part was standing at the edge before getting ready to go but once I was going, I loved it. We booked this excursion through Norwegian too and I WOULD DEFINITELY recommend it. The staff was so friendly and polite. The excursion also included a private pool/beach access after. The resort they took us was right on the water and super close to port, so we could head back whenever we wanted.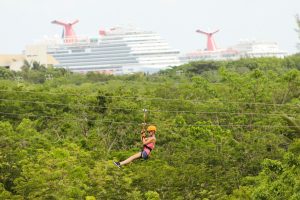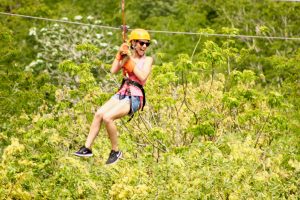 Day 7
This was our last day on vacation. We spent the day on the pool decks, enjoying the bars, going down the slide and refreshing in the waterfall at the adult pool area. For dinner we ate at Food Republic, which is a restaurant that features iPads at every table and that's how you order. I can't say that we enjoyed the food as much as the other restaurants but it was a cool experience. Because of having to order on the iPad the menu was very selective and there was no options to change/customize or ask for anything additional. I can be a very picky eater so this type of restaurant can be a problem.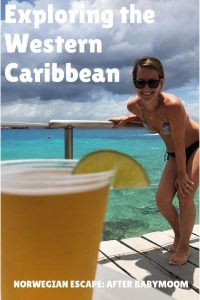 In Conclusion
In conclusion, we love cruises, specifically Norwegian and will always do a after baby-moon. Mark and I like to spend time together traveling, exploring new destinations but we always lean towards tropical destinations. We also like to do a lot at once, that's why cruising works for us. On our honeymoon, we got to see Italy, Spain and France in 7 days! Since we have been together, we always have wanted to travel and see the world. Cruising has helped us check off a lot of places from our bucket list.
We had a GoPro with us and so we recorded most of adventures. Check out the short video below of our trip exploring the Western Caribbean.
-WorldofModernMom