Have you ever wondered what is the "Shop my Instagram" section? Well, we have all seen or liked an outfit on Instagram and  wished it would magically appear in our closet.  With the "Shop my Instagram"  section on my blog, you can do that! Do you like an outfit that I posted on my Instagram, what to know where to shop it or get a similar look?  Head over to my blog and under that section you will find the outfit with all the details. Where to get the exact items I am wearing or the closest look I can find.
Every time, I post an outfit, I have it on my "Shop my Instagram" section and the photo will be hashtagged as #shopmyinstagram. Usually, I can find the exact pieces of clothes I am wearing. If its not available or sold out, I find as a similar item or outfit as I can. With of course always my style in mind and what would look good together. I try to stay budget friendly, I don't put "high" price items, unless its my go to pieces, like my Michael Kors watches, Kate Spade purses, etc.
In the last week, I have posted 6 looks on my Instagram account. Some of them are fashion style professional photos and some are my every day outfit looks. Each outfit, to me, has a purpose or reason. I feel that there are a couple of different ways to style or wear them to.
Little Black Dress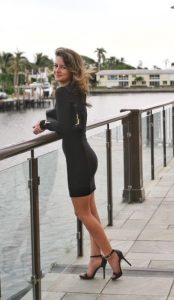 I've briefly talked about this outfit before. When I was at the mall with my husband, shopping at H&M (for his suits), I ran across this dress. I already had finished my shopping and wasn't looking for anything else but when I saw it, I had to have it. This is "The Little Black (AFFORDABLE) Dress" every women should own! Its fitted jersey dress, with velvet detailing around your hips in the front and back. You can wear this dress at any occasion and any way you like. You can wear it with flats and a cardigan for an everyday look, or dress it up with heels for a night time look! The best thing about this dress is that it was under $25! Head over to "Shop my Instagram" to get the detailed items wore for this look.
Moto Jacket & Ripped Jeans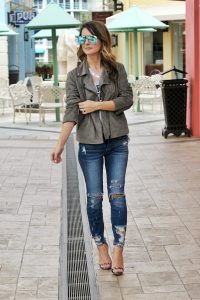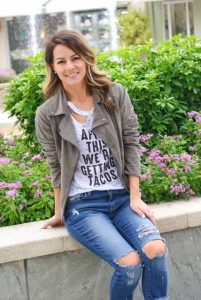 When fall approaches and its under 60 degrees in Florida, my fall jackets come out! This jacket is one of my favorites, its a suede moto jacket. The jacket is currently sold out but I was able to find a close replica of another brand! I loved how this look came out, I went with a casual cut out t-shirt and ripped jeans from Francesca's and a pair of grey strap heels. I added the deep blue sunglasses for a color pop! This t-shirt has been a hit, everywhere I wear it, people comment on it….however I cant seem to find it  on Francesca's website. Mine is from our local Francesca's, here in Naples, FL. Get the details of this look on "Shop my Instagram".
Plaid is Fall

Plaid is always in but in the fall there is so many more occasions to wear it! Like at the pumpkin patch, cider mill or picking apples at local farms. I especially liked this plaid button down shirt, it caught my eye because of the open shoulder look. Its different than the regular plaid shirt and perfect for us here in Florida. The shirt is currently sold out but I have found a reasonable priced similar top. I paired it with black ripped jeans and open toe booties. Get this look on "Shop my Instagram".
Wedding Guest Attire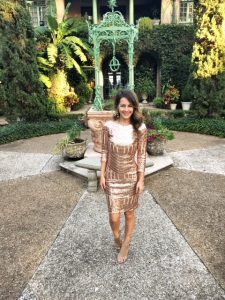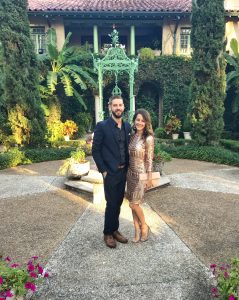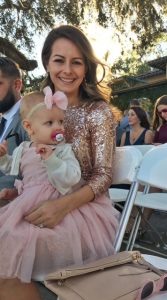 This dress has to be one of the most beautiful dresses I own. The color and sparkle is every girls dream. All night, I kept receiving compliments on this dress. The dress is currently sold out but I have found a similar look for a compartable cost. I paired this dress with very simple nude strap heels and a light pink clutch. Hubby's and baby girls outfits are from H&M. Again, head to my "Shop my Instagram" section for details on a similar look.
So, that is what the "Shop my Instagram" section is. Every time I post and outfits that will be on this section, I will hashtag on Instagram with #shopmyinstagram". If you like the look and want to know more, then head to my blog. If you see a look, that is not available any more and want me to alert you when its back in stock, comment either on my blog or Instagram and I will let you know!
Head over to there now, there are more looks that I didn't talk about on this post!
-WorldofModernMom