Thanksgiving is a thing of the past and Christmas is just around the corner! So, of course we had to do our "Family Holiday Shoot". We haven't done holiday shoots in the past years but now with Emma, we want to cherish and create more memories for her keepsake!
This year was our first "Holiday" theme shoot! Living in Florida and creating that fall/holiday look can be difficult. There is definitely no snow, barely any leaves on the ground and so hot, you can barely keep your tank top on! So, when it came to picking a location and outfit, this what I DID!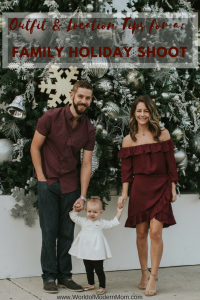 LOCATION
Depending on where you live, this can be easy or hard! For us, it took us a minute. There is no snow, I'm definitely not wearing fall outfits in 85 degree weather so we had to think hard! Naples, is a beautiful coastal city and for the holidays, the town gets decorated to the max! Downtown is already a favorite location of mine but when it gets decorated for the Holidays, its perfect for a "Holiday" theme shoot. There is decorated Christmas trees, the light poles decorated with lights, santa's hanging from trees and so much more! We choose 3rd street south because of the beautiful Christmas tree and decorations around. Here are some other ideas and locations.
Inside festive activities
Dress your Sunday best, in indoor studio
DIY theme, large ornaments, tinsel, fake snow etc
Winter wonderland, if you live where it snows
Outdoor Holiday activities
Keep it casual and take photos by near by barn
Dress up in formal attire
OUTFITS
When I started to think about the outfits, I thought about Holiday colors and what will look good in sunny Naples. We decided to go with a dark red, maroon and have Emma stand out with a different color. It took about 2 weeks to get our outfits together. Marks outfit was from Nordstrom Rack, Emma's from Marshall's and mine from Vici Dolls.
Baby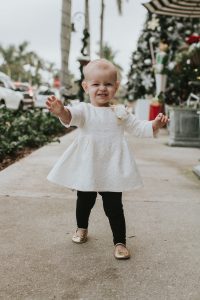 When it comes to dressing your baby for photo shoots, that has to be the most fun! There's always so many options! I got really lucky, when I was walking in Marshalls, I saw this outfit and it was only $14.99….a steal! Below are some holiday theme shoot outfits for girls & boys.
Dad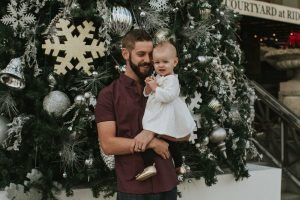 I always seem to dress Mark, but don't all us women dress our men! I knew I wanted Mark in a maroon button down and got his from Nordstrom Rack. Below are some similar mans "Holiday" theme photo shoot looks.
Mom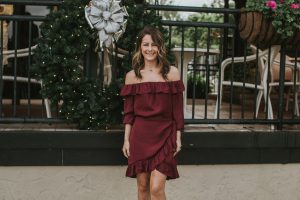 For me, as I said before, we live in Florida. I can not dress in fall clothes in 85 degrees so I wanted something summery but that still gave the holiday feel. When I saw this dress, I KNEW it would be perfect, with the colors and theme! This dress is still available and also comes in 2 other colors. Follow this link for this dress.
Our 2017 Holiday Family Photos
Now you can see all our Holiday 2017 photos! Our photographer is Deniece Giovinazzo, I have worked with her in the past couple months and love her work and the relationship we have created. If you need her information for a shoot, just message me 🙂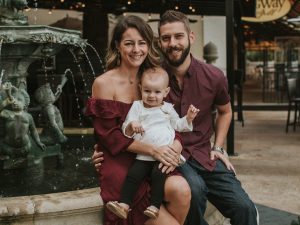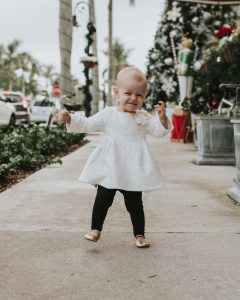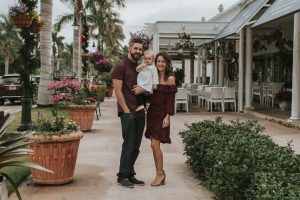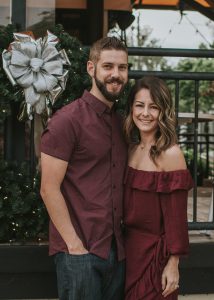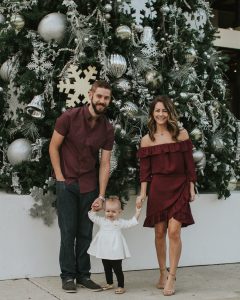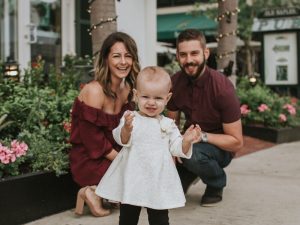 Those are our 2017 Holiday family photos! I hope you enjoyed them as much as we did taking them. Leave any comments below with any questions!
Also, does any one else have their 2017 holidays photos scheduled or already taken like us??
-WorldofModernMom