1.Its a Meal Subscription
Plated is meal subscription service plan that delivers meal kits with exactly measured fresh ingredients along with recipe directions. We have been using the Plated meal subscription since I was pregnant with Emma, which is over 2 years. While pregnant, I was extremely tired. As the months went by I found it harder to go grocery shopping and unload the car.
One night, as we were watching Shark Tank, an old episode featuring Plated came on. It sounded like a great idea so I looked it up right away and signed us up. At that point they were still fairly new. Their # of dinner subscriptions and weekly recipes were very limited. Now ,there is almost 7-8 recipes to pick from weekly, plus desserts for an additional price. Meal dinner options start as low as $48 weekly; $12 per person, 2 meals, 2 servings each. You also pick the delivery day, which can be Monday-Saturday and you can skip any week without any fees on your Plated  app.
2. Saves time in meal planning
I find that Plated saves me time in meal planning and time spent at the grocery store. While pregnant it was hard to get the energy to go to the grocery store and now with a toddler is hard to find the time. And when you are there, you just shop, forget meal planning and coming up with new recipes…who has time for that as your dragging a toddler by your leg.
With Plated its so easy, we have set it up to 2 dinner meals per week to be delivered. This works best because we have 2 new recipes for dinner weekly (which is fun to and exciting to cook and try out) plus whatever else I have bought at the grocery store. About 2-3 weeks ahead I go on my app and look at their meal options. I pick 2 meals if I see anything I like or I skip the week if I don't like any we would like to try.
We only do 2 dinner because Plated could be quiet expensive and I still do 2-3 of my own recipes. For us 2 meals works because no matter what I go to grocery store and buy kid friendly food and snacks for Emma. At that time I also buy easy ingredients for 2-3 other dinner meals.  Having those 2 meals from Plated helps me not to worry about variety in our dinner or changing up the same weekly recipes because I know Plated will be delivered. This way going to the grocery store can be quick and easy. No need to walk around aisles with recipe notes looking for ingredients for hours.
3. Recipe Variety
Another reason we love Plated is all their recipe options! You go through a questionnaire when you first sign up, at that point you answer questions on the foods you like and dislike. This way the app will show you recipes with ingredients that your family eats. I am cooking recipes that I never thought I would be able to cook. One of our favorite cuisines from Plated is Indian. We like Indian food at restaurants but cooking it at home is be even better! We have cooked so many different cuisines like, Greek, Thai, Italian, Mexican, Chinese and so many more! Plated has allowed us to explore cuisines more. It keeps dinner at home more exciting than the usual overdone weekly recipes.
In the next couple pictures I will show you how easy it is to follow the directions and cook a great Italian dinner at home. In this weeks box, one of our meals was the Gnocchi Pomodoro. Marks favorite, so that's the one we decided to cook! The directions come in a note card with pictures which is very easy to follow.
Gnocchi Pomodoro
Ingredients
2oz           Baby Spinach
1pint         Cherry Tomatoes
12oz         Summer Squash
4oz            Fresh Mozzarella
1glove      Garlic
1/2cup      Tomato Puree
1/4oz         Basil
1/4tsp        Crushed Red Pepper
1oz            grated Parmesan Cheese
2tbsp         White Wine
1/2tsp        Sugar
1lb             Gnocchi
Directions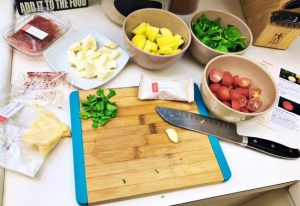 Prepare Ingredients
Bring a large, covered pot of water to a boil over high heat. Rinse all produce. Roughly chop spinach. Halve cherry tomatoes. Halve summer squash lenghtwise, then cut cross into 1/4 inch half moons, discarding ends. Roughly chop or tear basil leaves, discarding stems. Cut or tear mozzarella into bite-size pieces. Mince garlic.

Saute Squash
Heat 1 tablespoon olive oil in a medium high sided pan over medium-high heat. When oil is shimmering, add squash and saute, stirring occasionally, until lightly charred, 5-7 minutes. Transfer squash to a plate, reserving pan for cooking tomatoes.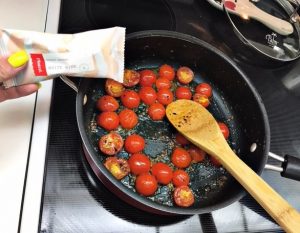 Saute Tomatoes
Return pan from squash to medium heat with 2 tablespoons olive oil. When oil is shimmering, add crushed red pepper and garlic and saute, stirring, until fragrant, about 1 minute. Increase heat to medium high. Add cherry tomatoes and saute until beginning to soften, 4-5 minutes. Season with 1/4 teaspoon salt and black pepper as desired.
Simmer Pomodoro Sauce
Add white wine to pan with tomatoes, still over medium-high heat, and cook until liquid is slightly reduced, 1-2 minutes. Then, add tomato puree, sugar and half of basil. Increase heat to high and bring to boil, then reduce heat to medium and simmer sauce, stirring occasionally, until tomatoes are very soft, about 4 minutes more.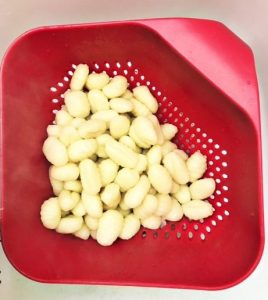 Boil and Finish Gnocchi
While sauce simmers, season pot of boiling water generously with salt. Add gnocchi and cook until tender and floating to the surface, 2-3 minutes. Drain gnocchi. Once sauce has simmered, add cooked gnocchi and squash to pan, still over medium heat, and stir to coat about 1 minute. Then, stir in spinach to wilt, 1-2 minutes more. Remove pan from heat and stir in mozzarella and half of Parmesan.

Plate Gnocchi Pomodoro
Divide Gnocchi Pomodoro between serving plates and garnish with remaining basil and Parmesan.
VOILA!
4. Easiest cooking directions 
Thats it…. the directions are so easy to follow. I love that it tells me how long to cook ingredients for. I always found that hard to predict and know. Now go ahead try out this recipe. But if you are considering in trying out the membership, subscribe to my blog and comment on my Instagram post about this blog, that you subscribed and I will email you up to $72 off your first box.
I only have 6 of these offers so the faster you subscribe and comment the better chance of receiving it!
You can subscribe for the membership following this link to the Plated website.
Has any one used Plated before? Thought about it? Or are you planning on trying out this recipe? Let me know your feedback on the comments below!
-WorldofModernMom