Ever since I was little I loved clothes and dressing up. My mom and grandmother have had an obsession with fashion since I can remember. I grew up in Albania, when we would go visit my grandmother on the weekends in the capital Tirana, she would have bags full of clothes for my sister and I that she recently had bought. Since then, I've always enjoyed following the latest trends and had an eye for it. I can walk into the mall with no idea what I am looking for besides knowing the event and somehow can create an outfit in less then an hour.
I love to shop, but I ALSO don't like to break the bank. We are a young family with a toddler and I am a stay at home mom with one income. So my budgets have to be reasonable. I don't usually shop at high end store or boutiques. One item at these places takes my whole budget for the month. So, I like to shop where I can get most for my buck. And you will see that trend in my blogs, all affordable stores.
Below I will go in detail where I shop for what.
JEANS/JEGGINGS
Usually, when I shop for these items, I like to spend between $20-$60. Depending on the brand. I have really good luck with jeans for a reasonable price at Charlotte Russe. Their jeans always fit great and they are very affordable, under $40. I have a couple pairs from them, that are my go to jeans. American Eagle also is a great place for jeans, their prices are a little higher, as high as $70, but worth the material and fit of the jeans.
For leggings the only place I have had luck with is Vici Dolls. They carry styles that you usually cant find in stores and I like the tight fit and length. I have a hard time with leggings and being too long on me. I'm 5'2, so usually they are too long on me. All my leggings from Vici, have been the right length and a tight fitting look you usually expect with leggings. Also, for ways to save money when purchasing from Vici Dolls, ready my blog, Chic Modern Womens Clothing Boutique.
Dresses
Dresses are a little easier because I can find one in almost all the stores I shop. But almost all the time, I go for these 3 places. Depending on occasion I am wearing the dress at, I like to spend between $20-$60. The style of dress I am looking is the leading factor when I decide where to shop. I like Francesca's because they carry a wide range of styles. I can find casual everyday, maxi, shift dresses and so many more! They carry some of the most modern, in style, chic looks. I can put a whole outfit together in there, so don't leave me too long.
Another place I frequently shop for dresses is: Nordstrom Rack, their prices are reasonable to, I can find sundresses and work attire dresses. I have a Real Estate License, so on occasion, I do Open Houses and Nordstrom Rack has been good to me for that. If I am looking for something for a special occasion, like weddings, ceremonies, galas, etc… I go to VICI. They always have wide selection for special occasions and their dresses are almost all under $80.
Sweaters
H&M has always been a favorite for sweaters. Their sweaters are all so soft and usually under $30. Some of my most favorite old sweaters are from there, and I have had them for a while. Classic chic sweaters that never go out of style. Francesca's also has a lot of sweaters and cardigans during fall. I love Francesca's sweaters for laying around/hanging out at home on a chilly winter day.
Tops
If I am looking for a top, I usually go to 2 places. Nordstrom Rack or Forever 21. I always seem to have good luck there, in and out within 30 minutes. I walk around, overlooking the racks and if any patterns catch my eye, I pull it and look at it closer. The reason I like these places is because again its affordable and depending on the occasion I am looking for… I can always find something quick. Between the two of them, they carry dressy or everyday, tanks, off the shoulder tops, open shoulder tops, crop tops, etc.
Shoes
Shoes….well these I shop anywhere! Whatever catches my eye, wherever. But still on a budget. I don't own a pair "Louis Vuitton" or whatever, and I am fine with that. My most expensive shoes probable are $80. As long as they fit, are comfortable and look good, they go home with me. Lately all of my shoes have been from Vici Dolls. I don't have a specific shoes store I frequently visit, so looking for shoes was a little difficult. Until I found Vici, they release new styles almost everyday, that are perfect for the season, super comfortable and fun!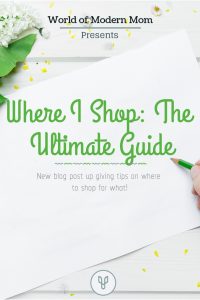 So, there was a run down of the store I frequently shop at. Did I forget anything? Any other items I missed? Let me know in the comments below.
-WorldofModernMom